Another year is coming to an end, and it's the perfect time to have a (close) look at all those hot celebrities who stripped naked – and shared the results with us on Instagram – in 2018.
From big TV stars to reality TV personalities and popular models – they have two things in common: They're hot. And they're naked.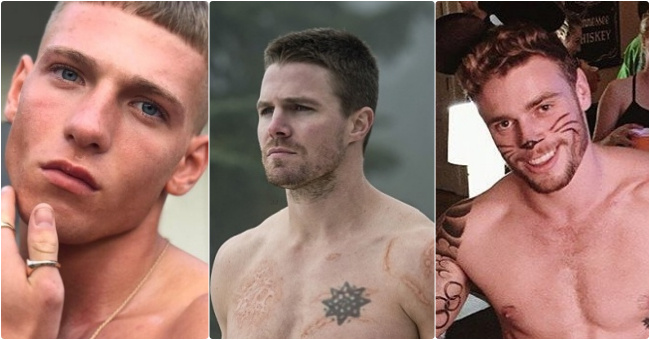 Enjoy – and have a happy new year!
(Oh, and don't forget to follow us on Twitter for uncensored posts!)
1. Stephen Amell – Actor
Yep, the Arrow star isn't too shy. We've seen him naked on our TVs in the past, and in 2018, he was naked on our Instagram feed.
2. River Viiperi – Popular Model
It's no wonder the hot 27-year-old Spanish model is one of our favourites here at the GayBuzzer towers. Especially when he gets naked…
And another one –
https://www.instagram.com/p/Brir9cxF1r2/
3. Antoni Porowski – TV Star and Food Expert
So yes, the Queer Eye star (and food expert) isn't technically naked in these – but he might as well be. And he looks so hot, so just… enjoy.
https://www.instagram.com/p/BrWAB0HgIHb/
4. Sean Pratt – UK Reality TV Star And Model
Can we count the number of times he stripped naked – or at least almost naked – on Instagram in 2018? Probably not. But we're not complaining!
https://www.instagram.com/p/Br0kM2-AE0u/?utm_source=ig_embed
And another one for good measure –
5. Ashley Parker Angel – Singer and Model
Another name you see often on GayBuzzer – because, well, the former "O-Town" singer he gets naked a lot.
https://www.instagram.com/p/BgY9q2bFwuo/?utm_source=ig_embed
6. Pietro Boselli – Model (And Former Maths Teacher)
One of the hottest models around, he doesn't often get totally naked on camera. But when he does… we're thrilled.
7. Brandon Myers – UK Reality TV Star
OK, So usually we're mostly concerned with Brandon's enormous bulge (which he calls "his third leg" – for good reason). But we don't mind it when he gets naked, either…
8. Andrew Brady – UK Reality TV Star
Are you sensing a trend? Yes, UK reality TV stars love getting naked on Instagram. Andrew was a serious businessman on the UK version of The Apprentice, then he moved on to Celebrity Big Brother, and then he got naked.
https://www.instagram.com/p/BllTedQFtb-/?utm_source=ig_embed
9. Max Emerson – Model
The popular (and openly gay) underwear model gets naked a lot – which is why he was one of the stars of our 2017 list. But don't worry – it happened in 2018 as well.
10. Olly Murs – Singer And TV Host
Olly Murs is a 34-year-old singer-songwriter and TV presenter who rose to fame in 2009 on the X-Factor, and last year became a judge on the UK edition of The Voice. 
And sometimes, he pleases us all by getting naked on Instagram.
11. Miles McMillan – International Model
Miles McMillan is a successful model who worked with some of the best fashion brands and photographers in the world. He's also Zachary Quinto's boyfriend. And he also got naked in 2018.
12. Zander Hodgson and Troy Pes – Models (And Boyfriends)
The two handsome models (Zander also had some TV appearances) came out of the closet this year, got together, and became one of the hottest couples around. And yes, they stripped.
13. Ryan Follese – Country Singer
We don't often feature country singers from Nashville. But when they do this – well…
14. Sam Callahan – British Singer
UK singer and X-Factor star Sam Callahan said he's "Always Naked" in the past. And then he got naked for real.
15. Gus Kenworthy – Olympic Skiier
We're cutting it close with this, because Gus posted this on December 31, 2017. But hey, what better way to celebrate the new year?
See you (and the naked celebrities) again in 2018!