1. Ryan Kwanten and Alexander Skarsgård (as Jason Stackhouse and Eric Northman) – "True Blood"
In season 7, slash fiction fans everywhere got a gift from True Blood's writers – a sex scene (well, almost) between Jason and Eric. Turns out Jason was just fantasizing (and in church of all places!) but what a fantasy that was…
2. Topher Grace and Joseph Gordon-Levitt (as Eric Forman and Buddy Morgan) – "That '70s Show"
Forgot about this one, did you? This surprising kiss was on the first season of That 70's Show, where Eric's lab partner turns out to be gay, and has a crush on Eric (well, who wouldn't?). And the lab partner? Non other than a young Joseph Gordon-Levitt!
3. Josh Hartnett and Reeve Carney (as Ethan Chandler and Dorian Gray) – "Penny Dreadful"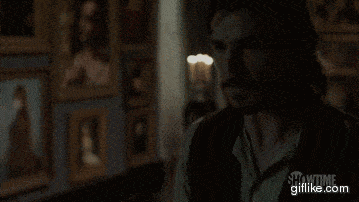 Penny Dreadful is a dark, scary show – with some beautiful male actors. Reeve Carney is a real revelation, Josh Hartnett was always a hunk, so putting these two together (even if for one brief night on season 1) is a real explosion of sensuality. Oh, and then they have sex. And later we find out (courtesy of a demon, no less) that Josh was the bottom. But that's just a bonus.
4. Kerr Smith and Adam Kaufman (as Jack McPhee and Ethan) – "Dawson's Creek"
Gay kisses on TV are almost a triviality these days – but in 2000, this male kiss was a very big deal, and was the first time two men kissed on [American] network television. It helps that they were both kind of hot.
5. Charlie Hunnam and Aidan Gillen (as Nathan Maloney and Stuart Jones) – "Queer as Folk UK"
What a TV Power Couple! Jax (from Sons of Anarchy) kissing "Littlefinger" (from Game of Thrones). The original, UK version of Queer as Folk was one of the hottest things on TV ever – and gave us the wonder that was the young Charlie Hunnam, along with some marvelous kisses (not to mention the steamy sex scenes).
6. Gale Harold and Randy Harrison (as Brian Kinney and Justin Taylor) – "Queer as Folk USA"
The American version of QAF had no shortage of gay kissing scenes (and sex scenes), lots of them between Brian and Justin. But the best kiss probably came at the end of this moving prom dance. (Also check out – The Men of Queer As Folk – Where Are They Now?)
7. Chandler Massey and Freddie Smith (as Will Horton and Sonny Kiriakis) – "Days of our Lives"
The first gay kiss on Days of our Lives, it was worth the wait, with the hot Chandler Massey finally kissing Freddie.
8. Darren Criss and Chris Colfer (as Blaine Anderson and Kurt Hummel) – "Glee"
I have to admit, for me, a kiss between Darren Criss and Grant Gustin (he was a gay 'villain' on season 3) would have been hotter. But Blaine and Kurt were cute and adorable together, so they still fit the bill.
9. Jonathan Groff and Russell Tovey (as Patrick Murray and Kevin Matheson) – "Looking"
HBO's "Looking" has its fair share of hot gay scenes. (Surprise! it's a show about gay people). But this was the hottest pairing for me – Groff is hot, Tovey is cute, and even though their kiss was a bad idea for the characters at this point (Patrick was in a relationship, and Kevin was his boss) – it was a fun scene for us. And – both actors are openly gay, so that's always a plus.
10. John Barrowman and Gareth David-Lloyd (as Captain Jack Harkness and Ianto Jones) – Torchwood
The "Doctor Who" spinoff was never shy about its main hero's homosexuality (he even kissed the Doctor at one point!), and the series had its fair share of gay kisses. Most of them, however, were between Jack and Ianto – and this is a nice compilation of those.
11. Daniel Feuerriegel and Pana Hema Taylor (as Agron and Nasir) – "Spartacus"
Spartacus was like a candy store filled with muscular male hunks. And, happily, it also had some gay romance, and a hot, sensual kiss between Agron and his lover.
12. Keir Gilchrist and Michael J. Willett AND Aaron Christian Howles (as Marshall and Lionel and Noah) – "United States of Tara"
A three-way kiss on primetime U.S. television? Who would have thought! But that's exactly what we got on this cheeky, short-lived (only 3 seasons) series from Showtime.