The 2016 Rio Olympics are almost upon us, and Tom Daley, the 22-year-old openly gay medalist diver, is getting ready. But we now learn about the rough patches in his past, his PTSD related to the diving, and how is fiancé, Dustin Lance Black, is the reason he's still doing it.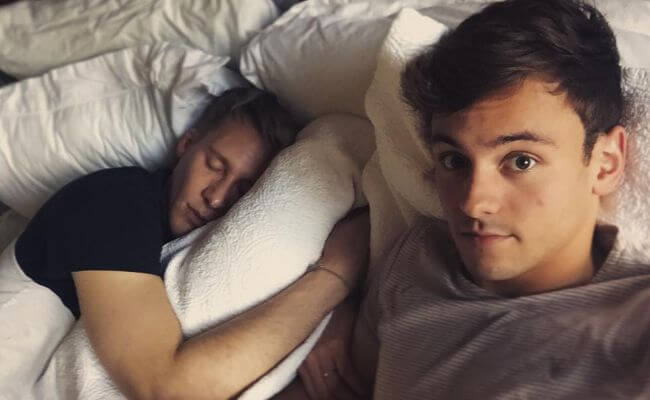 "After 2012 I had a rough time getting back into training", Daley reveals in a new interview with The Times. "I lost motivation. I thought I might not want to do diving any more, not go to another Olympics. I wanted to go out and be a normal teenager."
Tom was then taken to a sports psychologist, who treated him for post-traumatic stress disorder, related to a time he had to do re-dive in front of 18,000 people.
Then, he met 42-year-old screen-writer, Dustin Lance Black:
In March 2013 I was at my all-time low and didn't want to do it any more. Then I met him and thought, 'This guy won't want to be with me unless I'm successful at what I do'.

I felt happy all of a sudden. Nothing seemed confusing any more. He is a massive, massive support for me.
Eventually, last year, the two got engaged, via an adorable, old-fashioned printed ad on The Times. "I just asked him in the spare room in our flat", Daley says now. "I had the ring box in my underwear. It was probably the least glamorous proposal imaginable."
In the interview Tom also talks about bullying in high school – and his coming out process. '"I didn't know that I was different. I just assumed everyone thought like me, that it didn't matter if it was a boy or a girl. I thought everyone had those thoughts in their heads growing up."
Good Luck in Rio!
h/t: Attitude