While most of the western world has already celebrated Pride this year, Canada always celebrates in August. And you know what that means – Arrow hottie Stephen Amell, who films the series their, joins in on the fun every year. And this year… he teased us more than ever.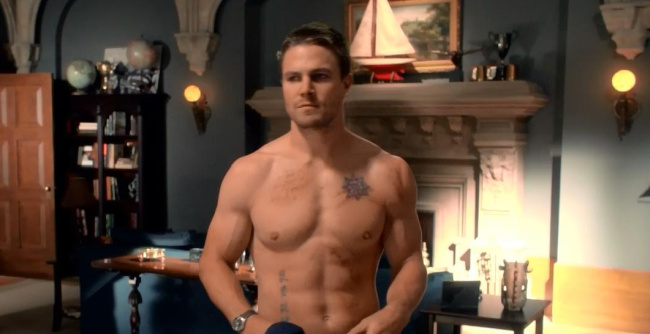 Last year, 37-year-old Stephen Amell voiced his disappointment at not getting to attend the Pride parade in Toronto, and he really wanted to ride a float in the Vancouver Pride. And while he didn't ride a float, he did eventually join the parade and even got himself a wonderful rainbow outfit. 
This year, he promised he would ride a float in his Green Arrow suit – without the top part. That, unfortunately, did not happen – but Stephen did attend the Pride celebrations in Vancouver.
And not only did he attend Pride – he wore a shirt that says… "I'm Not Gay, But $20 is $20"
All jokes aside, who wouldn't pay $20 for that? And don't forget – he did go gay, at least on our TV screens, a while back.