Stephen Amell, star of Arrow, joined the Pride Parade in Vancouver, Canada this Sunday – and while there, he even switched to a very colorful outfit – or, should we say… accessory.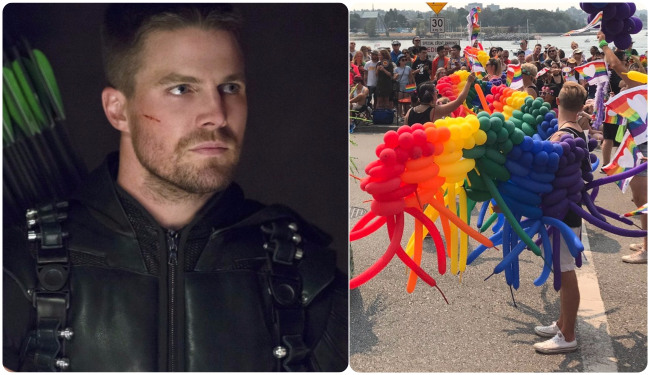 A month ago, Stephen Amell was disappointed he couldn't take part in Toronto Pride, and wished there was one in Vancouver.  Well, there is, as yesterday the 39th annual Pride Parade marched in the city.
Stephen (whose co-star in the early seasons of Arrow was Colton Haynes) joined the parade, posted some photos on social media, and had a few revelations.
First, he discovered that "hugs are free" there (though some would probably pay for a hug from Stephen Amell), then he found out about all the glitter – and then… Britney Spears.
Vancouver Pride takeaways: 1. Hugs are free, 2. Wear clothes you don't mind getting glitter on, 3. Britney Spears is basically currency.

— Stephen Amell (@StephenAmell) August 6, 2017
Next, Stephen took a special interest in one of the marching men, as he saw him walking with wings made out of… rainbow balloons.

"I'm following this guy to the end of the parade and taking his balloon wings. Hopefully he watches Arrow."
I'm following this guy to the end of the parade and taking his balloon wings. Hopefully he watches Arrow. pic.twitter.com/b9iDtVPjDD

— Stephen Amell (@StephenAmell) August 6, 2017
It seems Stephen didn't actually get to disrobe the man and take his wings – but he got close enough:
Not the same balloons, but I'm going to go ahead and put this in the win column. pic.twitter.com/7ZDZuxcClA

— Stephen Amell (@StephenAmell) August 6, 2017