Oh, what a Christmas present: Harry Styles is finally kissing a man right in front of us… In James Corden's Christmas Special edition of Carpool Karaoke. And it's marvelous!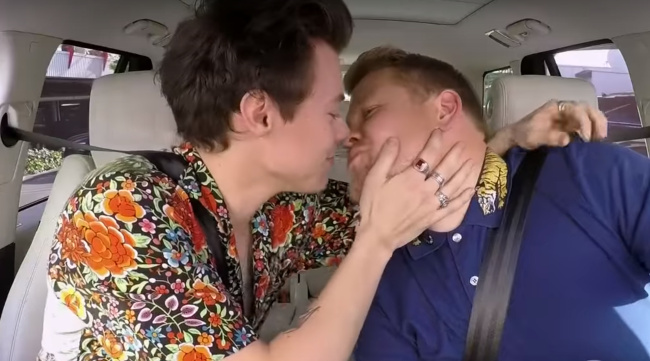 Earlier this year, Harry Styles, the popular 23-year-old singer (and former One Direction member) was already a guest on James Corden's Carpool Karaoke, his popular bit on the The Late Late Show. 
Back then, they were singing and dancing together, with Harry wearing all sorts of sexy outfits, and the two even re-enacted a scene from Titanic…
This week, James Corden put up a special Christmas edition of Carpool Karaoke, with a multitude of popular singers, all mashed up together and singing "Santa Claus Is Comin' To Town."
Among the guest singers were Sam Smith, Katy Perry, Usher, Bruno Mars, and… Harry Styles, who at the end of the video, looks romantically at James, and gives him a very wet kiss.
"I did not expect that for Christmas!", James tells him. Well, we expect a kiss from Harry Styles EVERY Christmas – we just don't get one…
Watch it right here, with Harry's kiss coming at the 2:03 mark: