Harry Styles, the 23-year-old former One Direction lead singer, must REALLY like Ryan Gosling. While taking the BBC Radio 1 "Heart Monitor Challenge", his heart rate jumped when he was shown a photo of a shirtless Ryan Gosling. (Wouldn't yours'?)
Harry's blood also started flowing when he was shown a certain One Direction member – and… not so much when he looked at a photo of a female model.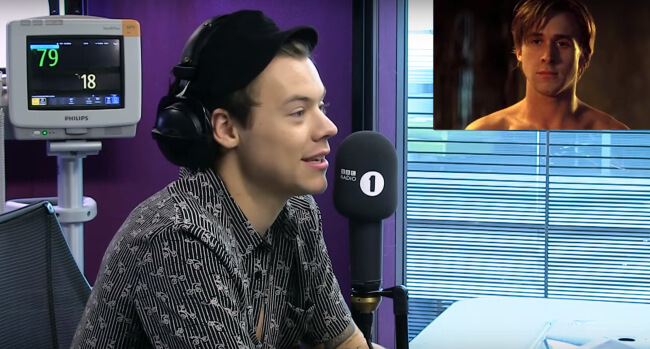 Harry Styles, who this year released his first solo album, was hooked up to a heart monitor and shown photos of various people and objects, with the monitor clearly showing his body's reactions.
They started with a photo of Christopher Nolan, who directed Harry in the newly released movie Dunkirk. Harry remained calm with a heart rate of 63-64.
However, when Harry was shown a photo of a shirtless Ryan Gosling from The Notebook movie, his heart rate spiked up to 80. "He's great", is all Harry was willing to say.
When shown a photo of former One Direction member Zayn Malik (who quit the band), Harry was not as excited – though still at a somewhat faster heart rate of 67.
Moving on to actress and model Camille Rowe – and Harry's heart rate fell down to 58… "I don't know her" was his explanation.
Watch the whole thing right here, and find out what it was the pushed Harry's heart rate up to 105… (Update: A week later, Ryan Gosling reacted to this)