Back in July, we told you about a secret deal Dustin Lance Black made with his husband Tom Daley – if Tom were to win the World Championships, Lance would dive off the 10-meter board as well. Now… it was finally time for Tom to collect.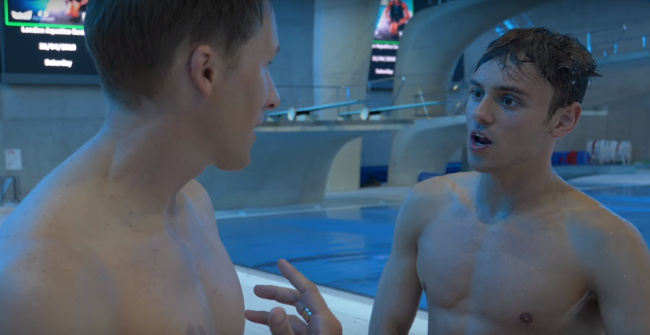 "I am so afraid of heights!", Lance said back then, speaking about the deal he made with Tom. "I'm sweating thinking about it. I've gone up to the 5 meter, and I have perfected an original dive – 'The Screaming 5 Meter'"
And now, in a video posted on Tom Daley's channel, we finally get to see the results of that bet. Tom took Lance to his regular pool in London, with Tom's family arriving as well to cheer Lance up.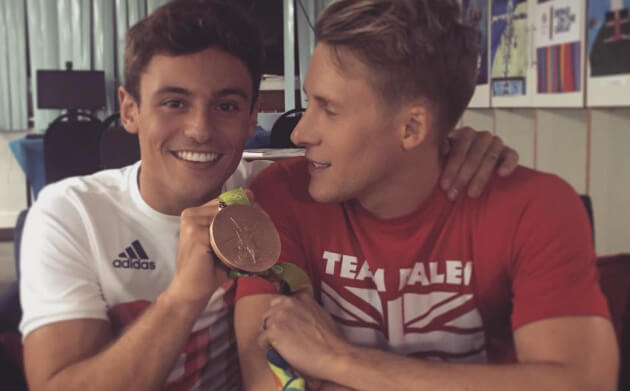 They started, naturally, by getting Lance into tiny trunks – like the ones Tom likes to wear when he's diving. Lance did everything he could to try to avoid this terrifying ordeal – including pushing Tom into the pool from behind.
It didn't help that good souls on Instagram warned Lance of all the bad things that could happen in a dive like this, and all the smacks he might get. "Don't get me wrong", he tells Tom, "I usually like a good smack, but not here – in the privacy of our own home!"
But eventually, Tom managed to take up Lance onto the diving board… starting with the 1-meter one. After the first jump, Tom was disappointed. "That was the worst dive I ever saw. He has no control of his body!"
But Lance kept trying, and trying, and even moved up to the 5-meter board. "Now my man bits hurt." Yep, it's not as easy as it looks.
But did he get to the 10 meter one? Watch it all right here: