Zach Garcia is a popular YouTuber, who we got emotional with when he called his boyfriend's mother, to ask her permission to propose to her son.
Now that Zach and his army fiancé Alastair are engaged, some men don't approve – and keep trying to break the two up and snatch Zach for themselves.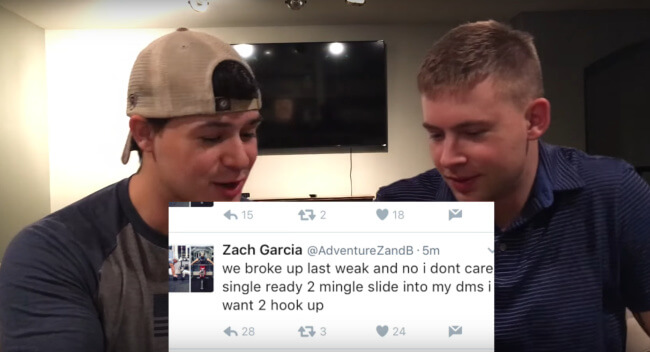 In their latest video, Zach and Alastair are doing a "couples therapy" session right in front of the camera. Zach begins by explaining how his Twitter account got hacked recently, and the hacker posted this, pretending to be Zach:
"We broke up last week, and no I don't care, single ready 2 mingle slide into my DMs, I want 2 hook up"

The reaction to this tweet? You guessed it…
"I can't tell you how many damn dick pics I got in my Direct Messages. This is a thing that happens. For some reason people think that because we're in social media, it gives them license to send us dick pics, explicit messages, or messages trying to get us to leave each other.

One person messaged me, telling me that he believed if I hadn't met Alastair then he and I would be together. He felt like he loved his boyfriend, but I'm his soul mate more than his boyfriend would be. I felt horrible for the boyfriend."
The video continues with Zach and Alastair talking about the prenup that Zach wants them to sign before their marriage, and Zach gets emotional when he talks about the failed relationships that he has seen in his life.
Watch the full video right here: