YouTube is a wonderful place – you can watch millions of inspiring, educational and historic videos – and, you can was hot young men taking their clothes off in a variety of "challenges".
Which is exactly what we got in the latest video of popular YouTuber Joe Sugg (known as ThatcherJoe).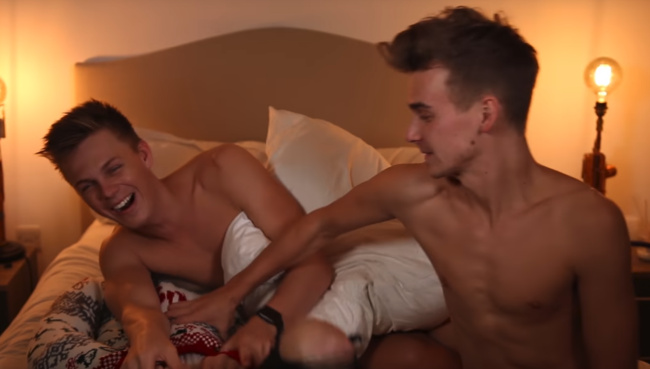 Joe Sugg, known for his very popular YouTube channel called ThatcherJoe (where we saw him in the past fondling and guessing body parts of fellow YouTuber Connor Franta), invited a couple of his friends – YouTuber Josh Pieters, and actor/YouTuber Caspar Lee.
Together, they played a game called "Bullshit" that involves people having to name as many things as they can in various categories. The loser of each round has to either take off an item or clothing – or wear one. So Caspar and Joe were the ones getting naked, and Josh was getting sweaty.
Caspar, after losing a few times, started by taking off his sock. Then another sock. Then his watch. And his pants… and while his buddies expected him to take his shirt off next – Caspar surprised them by taking his underwear off all the way. "I don't care!", he says.

Don't worry though, Caspar loses again and ends up taking his shirt off. "I'm fully naked! If this isn't objectifying, I don't know what is…"
But wait! Caspar then loses AGAIN, so his punishment is… doing a naked Hula Hoop on the bed. And it gets "stuck on his willy." And yeah, Joe strips too.
Just go ahead and watch it all right here – you know you want to: