Say what you will about Davey Wavey, he really pushes the envelope when it comes to sexuality on YouTube (not to mention pushing the envelope with his very own gay porn site.)
In his latest video, Davey decided to check (scientifically!) that famous semen myth – it'll taste better if you eat a lot of pineapples. Well, did it?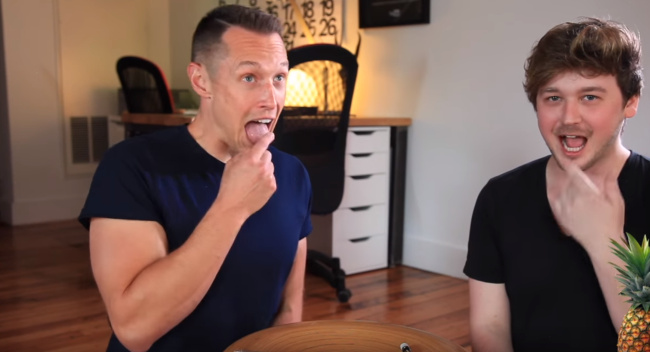 Popular YouTuber Davey Wavey brought along his buddy Brendan, and together they wanted to get to the bottom of the theory that pineapple makes your semen taste sweeter.
First, they put the "very specific bodily fluid" in a vial, on a normal day. Then, they both ate "a tone of pineapples", and manufactured some more, ehm, bodily fluid – and into a second vial it went.
Eventually, they put both vials in the refrigerator  (don't try this at home kids), until it was time for the on-camera blind test.
"I actually enjoy semen", Davey explains, "but you have to be in that moment. And when you divorce the semen from that moment… I like it coming out of the tap."
Nevertheless, they were both brave enough to do the taste test – and you can watch the results right here: