Every few months, popular YouTuber Davey Wavey creates a video collaboration with gay porn superstar Blake Mitchell – and the outcome is always hilarious (and let's face it – sexy).
This time is no exception, as the two test out anal vibrators that can be controlled via an app. And of course – they each controlled the other one's toy…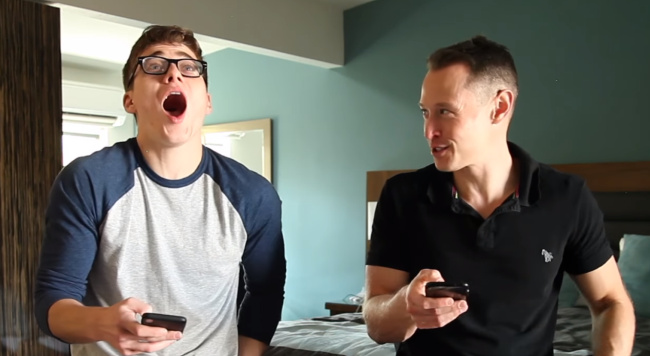 Blake Mitchell is a popular 23-year-old gay porn star who can usually be seen on Helix Studios (NSFW Link!). 
However, Davey Wavey himself, the popular gay YouTuber (with more than a million YouTube followers) opened his own gay porn website this year, Himeros.TV (NSFW Link!), and Blake appears there as well.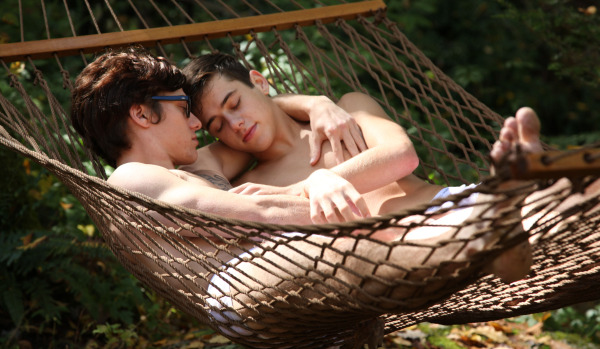 But we're in SFW territory today (well, sort of), with Davey's latest YouTube video. "You know what makes videos more interesting", Davey says at the beginning – "When you put remote-controlled sex toys up our butt."
We couldn't have said it better, and indeed the video starts with Blake and Davey sticking an anal vibrator up their bum ("Oh, it's kind of big! I can't even sit!").
Then, Davey proceeds to interview Blake – while they both control the other person's vibrator with an app.
Blake really does put up an effort to try to answer the questions seriously – he tries to talk about his bisexuality ("A lot of people just assume I'm gay for pay… but I've had more sex with men than I had with women"), and he tries to talk about the loneliness that sometimes comes with being a porn star – but it's hard to talk about these things with a vibrating toy in your ass.
It's hilarious to see the guys' reaction to all that vibration going on back there… while trying to answer serious questions.
Check Out Blake and Davey on Himeros.TV
Watch it all right here: