Popular gay YouTuber Davey Wavey is back with what is now becoming a series – sticking things up people's butts, for a raunchy YouTube challenge.
But while last time it was Davey himself who took things in, this time he enlisted the help of two gay porn star Blake Mitchell and Joey Mills.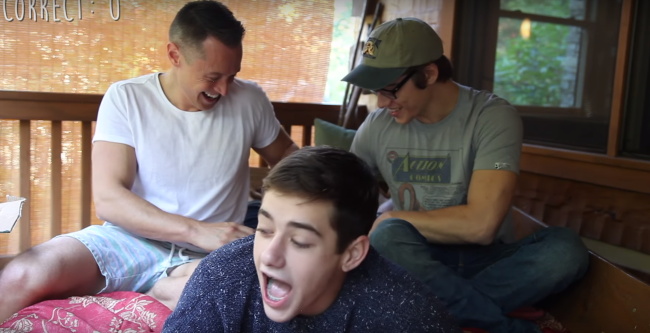 "There's this really annoying thing on YouTube called 'What's Up My Butt' challenge", Davey explained last time – so he decided to LITERALLY stick things up there and have people guess what those are. That definitely pushes some YouTube boundaries…
And this time – it's "The Twink Edition", with Helix Studios' gay porn stars Joey Mills and Blake Mitchell [NSFW Link!].
Joey is the brave "bottom" in this case, with Davey and Blake making him take things like a Popsicle, a celery, a double-headed dildo, and… a pumpkin.
The prize? We get to see Blake Mitchell's nipples – and learn something quite surprising about one of them.
Watch it right here: