Some straight guys are "curious" enough to try things with other guys, and some guys are just looking to joke around – They can be friendly and mischievous enough to kiss other guys, sometimes as a joke.
But it all sort of backfired for this guy on reddit, when an "innocent" New Year's Eve kiss with his [male] friend, escalated quickly into a viral video which convinced his whole town – and his family – that he's gay.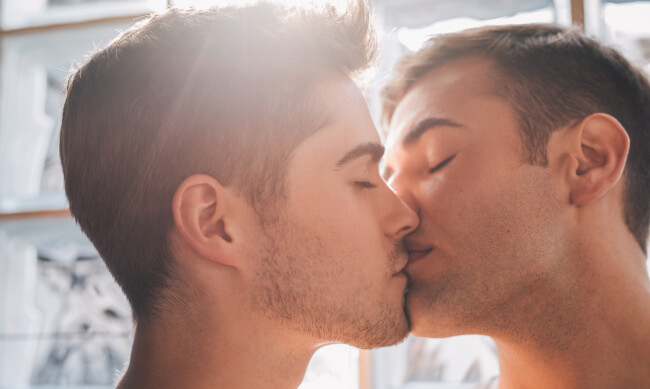 "It was the night of new years and I was at a friend's place just outside of town", he begins his story. "As the night went by we kept joking about having no New Years kiss and so on and me and my friend, we'll call him Dave, started joking about being each others New Years kiss."
Pretty quickly, the joke turned into something else.
I'm a guy who's not really into the hummus business [A peculiar slang for homosexuals, apparently. GB], but I don't really back off when it comes to kissing dudes or making out with another with them for that matter.

I figure "hey that's just another person, kissing another dude doesn't mean i enjoy getting my plum penetrated by another mans love stick."

Anyways the countdown begins and we just go for it (just a small kiss on the lips and nothing more).

Just for the sake of the meme we hold each other, in an unholy position that only love birds whom are about to marry one another should hold, and start enjoying the fireworks.

At this point one of the so called "females" notices us and starts to laugh and doesn't believe that we actually kissed so just to fuck with her we go at each other as if our life depended on it.

Someone films this on the platform know to man as Snapchat and sends it to world with the caption "so glad they finally came out". The night continues and so does the party.

The next day me and Dave are in town and this random couple congratulates us. We don't think of it much and just assume they mean new year. We go home to my place to play some video games and hangout and thus my father happens.

He congratulates us as well and tells Dave he's glad that I chose him out of all the other people in an awkward manner. I still haven't got it but Dave's laughing his ass off.

I ask my dad if he can leave us alone and he tells me "oh I see you want some space to do your thing now that there's no hiding it." and winks. That's when I realize and panic.

It turns out some asshole saved the Snapchat video (somehow) and shared it on Facebook. Being in a small town, everyone wanted to show that they're tolerant and fond of these so called "hummus-people" and everyone liked and shared the video.

It's January the 2nd and everywhere I go people congratulate me. Yay, I guess I'm a gay now.