Here's a statement we didn't see coming (then again…) – Shawn Mendes, the super-popular Canadian singer, is a big fan of internationally renowned South Korean boy-band "BTS" – So much so, that he called its members the most beautiful guys he's ever seen.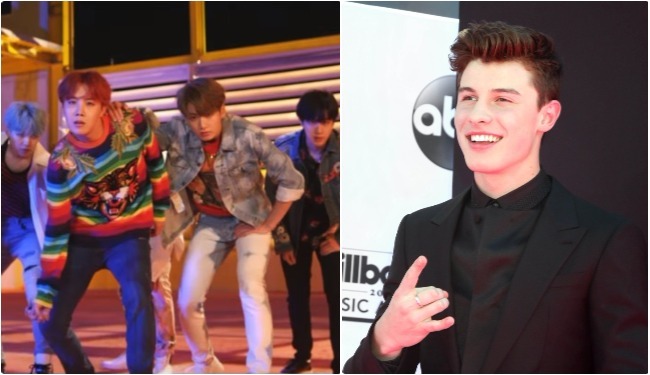 Shawn Mendes probably needs no introductions, as the 19-year-old hottie is a major star. "BTS", however, is a South Korean based boy-band made up of seven guys – and they're also super popular all around the world, though less so in the United States – but that's changing fast.
Shawn and the BTS boys (their ages range between 20 and 25) have met during the recent American Music Awards ceremony, where both BTS and Shawn performed on stage (alas, not together).
And even though Shawn was busy Bromancing with Niall Horan at the AMAs, AND with KJ APA, he also had time to meet the BTS guys behind the scenes – and he was impressed. VERY impressed.
In a recent interview, Shawn said about that meeting:
"They were so sweet. They were probably the most beautiful guys I've ever seen in my life. Truly I didn't know humans existed that beautiful.

And their performance was insane. I watched the video a 100 times."
Shawn also says he would love to collaborate with them… We're waiting!
Watch it right here:
And in case you're wondering what all the fuss is about – here's a video of BTS' performance at the AMAs: