Russell Tovey is on fire these days – the 35-year-old openly gay actor is doing movies, TV, a masterpiece play in London… the perfect time to bring up a painful memory that involves his penis…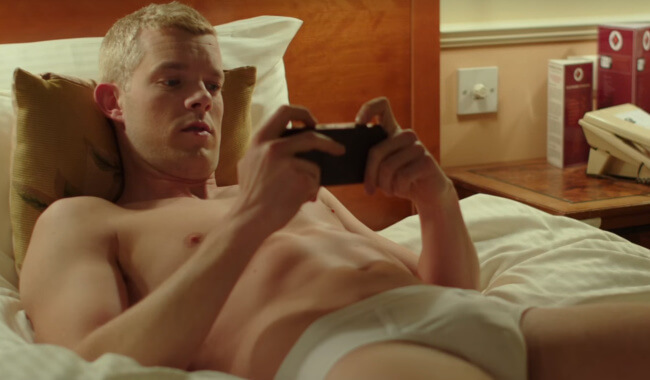 This past year, we've seen Russell (with very little to wear) on The Pass, a movie which tells the story of two young, handsome footballers (that's soccer players for our American readers) who spend the night before an important game in a hotel room together, and… you can imagine the rest.
We've also seen Russell on the second season of TV series Quantico, and we will soon be able to see him on a new production of the famous Tony Kushner play, Angels in America, at the National Theatre in London (along with Andrew Garfield).
But we're not here to discuss these things – we're here to discuss his penis, as earlier today Russell took to Instagram to reminisce about a painful experience from his youth.
"When I was 15, I once sprayed Tommy Hilfiger onto the head of my penis to make it smell nice. I thought I was going to die #mistakes"
Yes, spraying cologne on your penis sounds awful. Twitter user Renato took it upon himself to provide an illustration of the event, which also depicts Russell's famous dog, Rocky.
— Renato Cesar Olive (@tatto_olive) May 6, 2017
We're sure Russell does better things with his penis these days…