It's hard to remember now, but when the now-openly-gay Russell Tovey started his career, he was usually the geeky, British straight lad. A werewolf, perhaps (on the U.K. version of "Being Human"), but still, a bit of a skinny nerd.
Well, that has certainly changed in recent years – and even Russell himself is surprised, as he talks about his buffed up body, and his awakening as a gay teenager.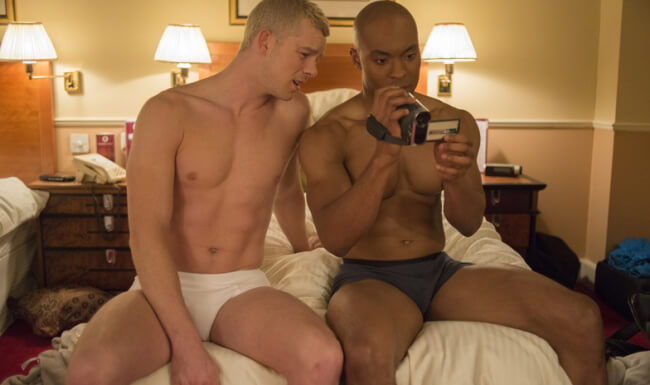 Russell's latest movie, "The Pass" (released earlier this year in the U.S., and to be released in the U.K. on December 9) tells the story of two young, handsome footballers (that's soccer players for our American readers) who spend the night before an important game in a hotel room together, and… you can imagine the rest.
Or maybe you can't, because the movie doesn't reveal what happened inside that room, until the very last stages – but we do see the troubled outcome of that special night.
Russell, who is now 35-year-old, became a gym-bunny in recent years – to our delight, as he spends most of the movie shirtless.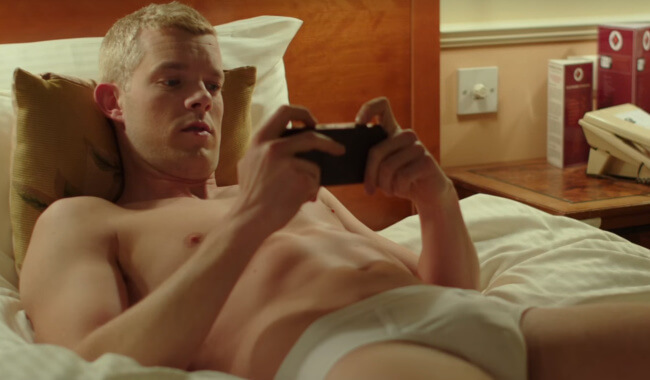 "The gym has become such an important part of my life, he explains in an interview with The Evening Standard. And now – he wins roles "for sexy guys who undress a lot, something I never imagined would happen to me."
In the interview, Russell also talks about his gay awakening – at the age of 14:
I was never tortured about being gay. At 14 I was watching the film "Beautiful Thing" on TV. My mum came in and I turned it off and when she went to bed I turned it back on.

I remember thinking 'OK, that's it'. It's like someone had put their hand on mine and said, 'There you go'. It's a love story with a happy ending. It's good to have role models and now there are so many more.

Honestly, it's the best thing that ever happened to me, being gay. It's made my career.
And what about a current boyfriend? Turns out he has one ("very early days"), but he has never dated someone "in the business", and his current boyfriend is no exception.
He is, however, looking forward to marriage – and children, when the time is right. For now, though, he has his famous dog – Rocky.
h/t: Attitude