When we go to Russell Tovey's Instagram account, there are two things we hope for: Shirtless photos of the openly gay actor's incredible abs, or photos of his lovely dog, Rocky. While we don't always get enough of the former we certainly get a lot of the latter – and now Russell penned a loving (if, somewhat jealous!) letter to his dog.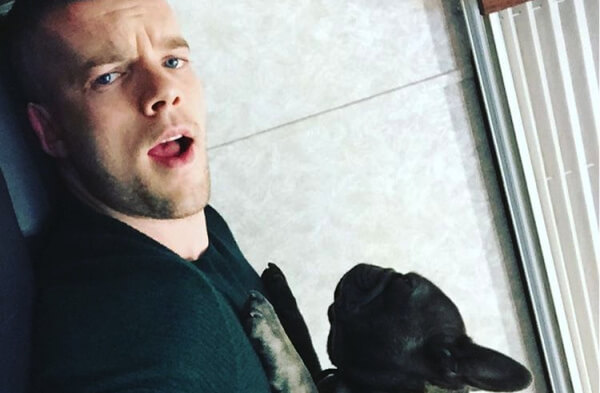 Published on The Sunday Times, Russell is wondering whether his more than 300 thousand Instagram followers are there for him – or for Rocky, his French bulldog:
People might recognise me from The History Boys or Him & Her, but on Instagram they want updates on one thing only: my three-year-old, blue-brindled, brown-eyed French bulldog, Rocky.

I've received Rocky fan art, dog clothes, even a French bulldog cookie jar. Once, an Uber driver rolled down his window and heckled me from across the street: "Oi, ain't you Rocky's dad?"
Russell also writes about the love he has for his little friend:
The first time I met Rocky, he was just a few weeks old. I remember scooping him up, gently laying him on my chest and staring deep into his eyes. He farted and instantly fell asleep. I knew right then that I had met my true spirit animal…

The number of times I heard, "I bet you only got him for the girls, eh?" To which I would reply, in a noncommittal way: "Something like that."

The truth is, if I was hoping in any way for Rocky to get me noticed, to be my ultimate wingman and stud magnet, he just isn't. Potential romance is halted by sheer star power… If Tom Hardy was a dog, he'd be Rocky. I, in comparison, pale into chopped-liver insignificance.

Besides, even though Rocky may never actively score me a bunk-up, he will always give me pure, unconditional love… Rocky may seem like just a dog to most people, but to me, he's the most brilliant thing in the world.
Read the entire column right here. And if you want to see more of Russell, the second season of his TV series Quantico debuts tonight.
And, of course, there's always his Instagram account – which he shares with Rocky:
And there was this famous selfies, where the Internet went wild over a certain… bulge:
Looks like fun, sitting on Russell's lap:
Just a boy and his dog: