The homo-erotic, BroRelationship between KJ Apa and Cole Sprouse, the two hot stars of The CW's Riverdale, is the stuff our dreams are made of. So of course, we weren't surprised to see KJ licking Cole's face. Well… sort of.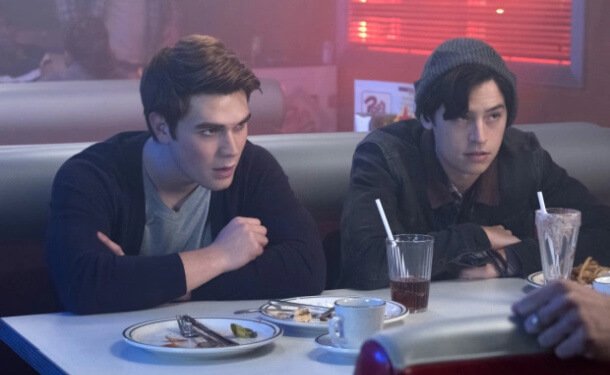 21-year-old KJ Apa is usually Archie, the red-headed, mostly-shirtless star of the TV version of Riverdale. However, he's now also the star of the Netflix romantic comedy The Last Summer, where he plays alongside Maia Mitchell.
As part of the film's promotion, KJ and Maia got together for a game of "Kiss and Tell", where each of them wears a blindfold, and then has to kiss/lick an object, and find out what that object is.
https://www.instagram.com/p/BsJ26uOl9bZ/
So among items of food, flip-flops, a beach ball and several other weird objects, KJ was given a photo of his buddy Cole Sprouse. I mean, we've seen them sleep together (sort of), so what's a little lick?
https://www.instagram.com/p/BS41veEBZ0K/
Of course, there was also that time when we got to see KJ's other co-star, Casey Cott, lick his ear:
https://www.instagram.com/p/Bk58WqWAQeh/?utm_source=ig_embed
Here's the new video – the Cole-Licking starts at the #30 seconds mark.