Barely two days have passed since we told you about the photo of Riverdale's KJ Apa sleeping shirtless in bed with his best friend – and now we have him sleeping and cuddling with Bromance Buddy and co-star Cole Sprouse… (And yes, Lili Reinhart's there too).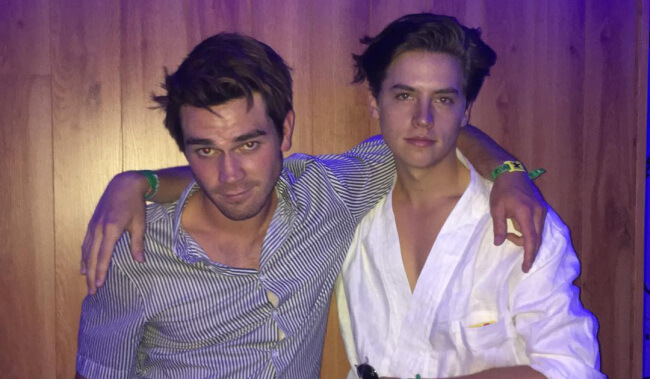 KJ Apa and Cole Sprouse, the two Riverdale TV series stars, have an ongoing Bromance relationship. Cole called it "Erotic" at one point, and there was that video where KJ Apa sort of told Cole "You're So F***ing Hot", and it just goes on and on.
So this latest photo, posted by third Riverdale male hottie Casey Cott, comes as no surprise, as we see KJ and Cole sweetly cuddling together on the.

And yes, OK, series co-star Lili Reinhart's there too – but as one commenter put it – "KJ isn't third wheeling you simpletons, they're cuddling collectively."
It's sweetness overload!
https://www.instagram.com/p/Bcy7RMjBBWC/?taken-by=kjapa
Best Bromance Buddies ever!
https://www.instagram.com/p/BS41veEBZ0K/?taken-by=kjapa