The CW's Riverdale show was a breakout hit last season, in part due to its super hot cast of boys. Among those are, of course, KJ Apa and Cole Sprouse – who've been cultivating an intense bromance on and off the screen. And – according to Cole – it's "very erotic." Hmm…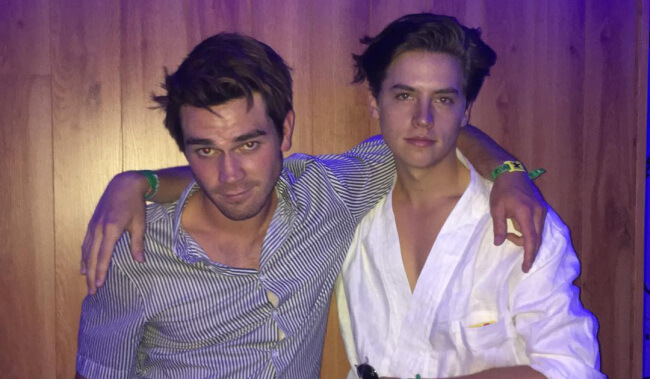 In the past, we've already seen 20-year-old KJ Apa and 25-year-old Cole Sprouse get into all sorts of shenanigans together. From taking the "ultimate bromance quiz", to saying words of love and affection to each other (sort of) – and they've even taken road trips together.

Earlier this week, Cole visited the Teen Choice Awards ceremony, where he won the "Choice Drama TV Actor" award, and Riverdale itself took the "Choice Drama TV Show" award.
https://www.instagram.com/p/BW9Pm85nlF6/?taken-by=kjapa
Before the ceremony, Cole was interviewed on the red carpet by Young Hollywood, where he started by talking about KJ Apa's weird gym habits.
The weirdest thing that happens on set is that KJ just works out ALL the time. Just all the time. I guess to maintain that level of physique he's just gotta be ripped and stay ripped.

I go to the gym with KJ, but they go like 210 percent, and I do my thing and then he yells at me… I guess he's my trainer.
At that point, the host asked Cole whether he and KJ have a Bromance going. His answer?
"Definitely. It's very erotic. We have sleepovers and everything…"
Can we get a video of that, please?