Popular YouTuber Davey Wavey has done several collaborations with gay porn star Blake Mitchell. But two are better than one – and in a recent video, Davey joins TWO gay porn stars, to study what they call a "male full body orgasm".
Mind you, it's on YouTube – but boundaries are definitely stretched there.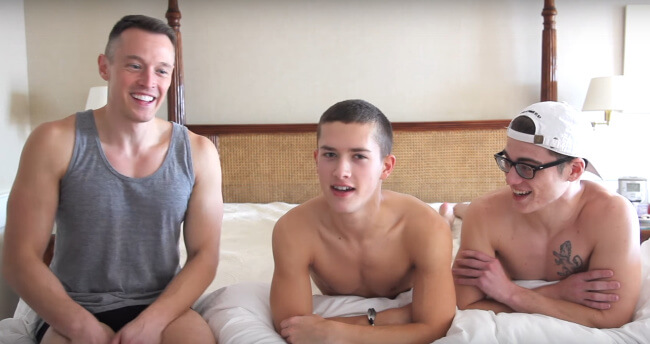 Davey Wavey recently released an erotic program, designed to help men study tantric sex and, we'll say it again – full body orgasms. Blake Mitchell is featured heavily – and nakedly – in that program, as Davey helps him reach, well, the full body thing.
In this recent video, posted on Blake Mitchell's YouTube account, the two are joined by another gay porn star – Sean Ford, with Blake aiming to teach Sean about the wonders of – you guessed it – full body orgasms.
https://www.instagram.com/p/BQOZg6DlJ1l/?taken-by=theblakemitchell
For those following the world of gay porn gossip, Blake Mitchell and Sean Ford already have a history – not only their gay porn videos for Helix Studios (NSFW Link!), but also – allegedly – while Blake was still with his previous boyfriend, gay porn star Casey Tanner, he followed Porn Sex with Sean with Real Sex with Sean, which resulted in Blake and Casey breaking up.
It's like the gay porn version of "The Days of Our Lives".
Anyway, we won't keep you too long, as you're here for the video, in which Davey, Blake and Sean are together on a bed, where things happen, Sean is touched in places you can see and places you can't see, and eventually, well… we won't spoil it.
Watch the full video right here: