Last summer, former Disney-channel star (and after that – King Cobra star) Garrett Clayton came out as gay in an Instagram post. Now, in a moving post, he reveals that he's actually engaged to his boyfriend, Blake Knight – who proposed a year ago while on a trip to Iceland.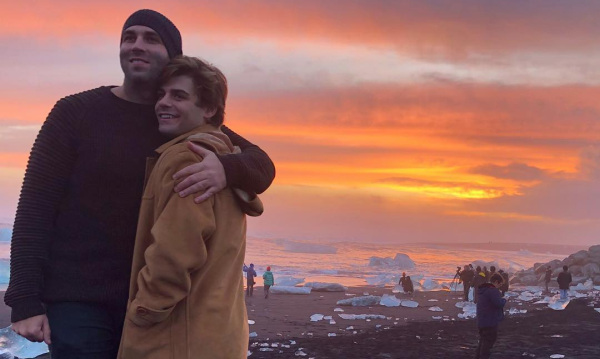 27-year-old Garrett Clayton first got popular as a Disney channel star, on the Teen Beach Movie series, where he played along Ross Lynch. In 2016, Garrett ditched the Disney persona, and starred in gay porn biopic King Cobra, based in part on the life of gay porn star Brent Corrigan.
"It's been 1 year since Blake Knight asked me to marry him in Iceland", Garrett wrote on Instagram today, "on the most beautiful trip and the most beautiful day of my life to date."
The caption is accompanied by a series of moving pictures that show Garrett and Blake's romantic trip.
"I'll never forget your face in that moment when you got down on one knee. Love, nervous, and excited (Obv, I was going to say yes) all rolled into the love of my life."
You can read it all here:
Garrett's fiancé, Blake, wrote his own moving piece as well, on his Instagram account:
We wish them both many more years of happiness.