Hollywood actor, singer and former Disney star Garrett Clayton has come out as gay in a moving Instagram post, where he talks about the bullying he – and the man he's in a relationship with – had to endure in high-school.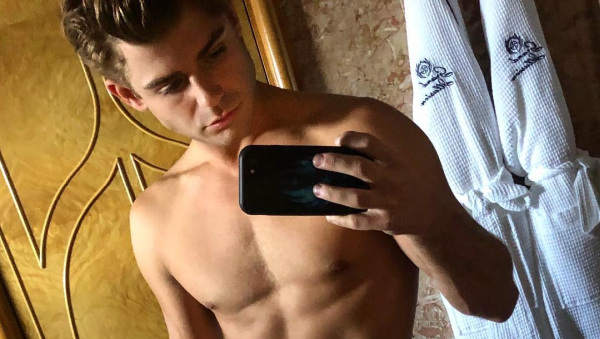 27-year-old Garrett Clayton first made a name for himself as a Disney channel star, on the Teen Beach Movie series, where he played along Ross Lynch.
In 2016, Garrett ditched the Disney persona, and starred in gay porn biopic King Cobra, that was based on events from 2007, when porn producer Brian Kocis (Christian Slater in the movie) was brutally murdered by two rival porn actors/producers, Harlow Cuadra and Joseph Kerekes (James Franco and Keegan Allen), in hopes of snagging Kocis' studio star –  Brent Corrigan.
Over the years, Garrett was understandably asked about his sexual orientation – but chose to avoid the topic, saying "I don't think it's anyone's business". (Remember, though, it's not at all easy to come out in Hollywood – even today.)
Earlier today, Garrett took to Instagram, where he posted a moving statement that also discusses the release of his latest film, Reach, which deals with a young teenager who plans to kill himself.
"With the release of my new movie REACH coming up", Garrett writes, "I thought it was important to explain why I took on this project in the first place."
And he goes on:
REACH deals with some very serious and timely topics that have affected me personally, and have likely influenced many of your lives as well…

When I read the script for REACH, I immediately knew it was a film I had to be a part of.

I have personally dealt with suicide within my own family, intense bullying in high school, and – on top of it all – myself and the man I've been in a relationship with for a long time (@hrhblakeknight) have both experienced shootings within our hometown school systems, and have witnessed the heartache that takes place in affected communities after such tragic events.
Read Garrett's full statement right here: