Former Disney-star Garrett Clayton is doing the media rounds these days, promoting his porn biopic "King Cobra".
In a recent video interview, with Theyoungfolks.com, Clayton talked about filming orgies, on how he studied Brent Corrigan (whose life the movie is based on), and – naturally – about his own sexual orientation.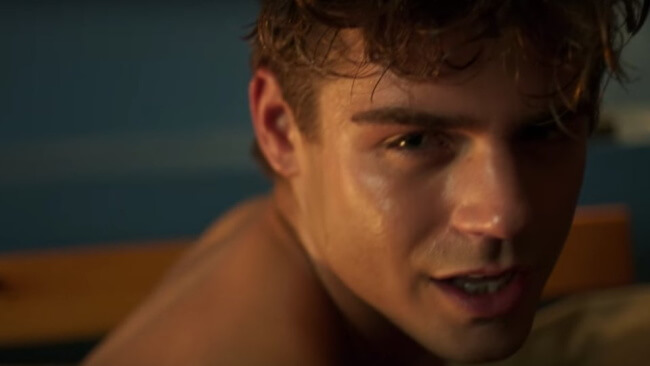 In recent interviews, we've learned a lot about the 25-year-old Clayton: He likes to be "as naked as possible",  he doesn't view sex as a taboo, and it was fascinating for him to watch Brent Corrigan's first porn scene. Now, we get to hear him talk about… Orgies.
Jon Espino sat with Clayton before the Chicago premier of King Cobra. "What was the hardest part about the film?", Jon asks.
I think I was most nervous about the nudity. We were doing a scene when I had to take my clothes off, and I saw how Justin [Kelly – the director] was shooting it, and it was really beautifully set and I was excited about it. It was bodies telling the story, there was always a reason behind each thing.
About the orgy scene:
The orgy scene took all day to shoot, and they were bringing people in two by two. I was naked in this room full of people, having people just grope my body. 
Did the movie change your view of the porn industry?
I think the one difference with Brent's story than a lot of the other ones, is that he's taken his life and taken charge of it. Now he's living the life he said he wanted to – produce is own work, acting in film projects.

A lot of the stories that I read were about drug addictions and suicide. A lot of these people are just trying to live normal lives. A lot of the stories are really sad.
Since you made this film, do people question your sexual orientation because of it?
People question that for any guy in Hollywood. Literally every single guy, there's no escaping. People want to pry, and I just don't think it's anyone's business.
Watch the full interview, where Clayton also talks about wanting to meet Brent Corrigan, right here: