Garrett Clayton, who stars in porn biopic "King Cobra", has definitely left his Disney days behind him. In an interview with Out magazine, he's talking about being naked, filming gay sex – and his personal life.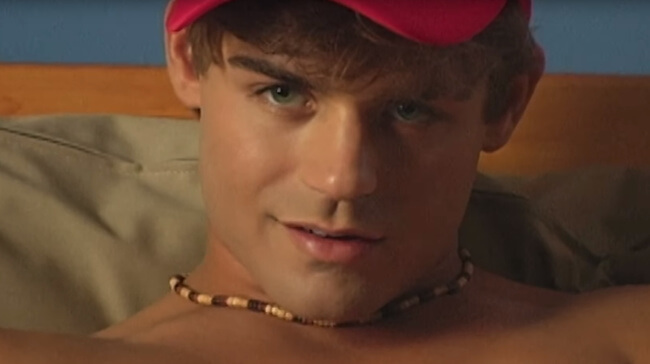 "I like to be as naked as possible," Garrett says in the interview, knowing his movie crowds well. "If friends come over, I'll just have on basketball shorts with no socks, no shirt, and maybe underwear. I hate clothes."
But what about the sex scenes in King Cobra? "I don't view sex as taboo," he says, "but it was important that there wasn't sex for no reason. When a sexual act was happening, Justin and I talked about how it promoted the plot. If it didn't, I wouldn't do it."
"King Cobra" is based on events from 2007, when porn producer Brian Kocis (Christian Slater in the movie) was brutally murdered by two rival porn actors/producers, Harlow Cuadra and Joseph Kerekes (James Franco and Keegan Allen), in hopes of snagging Kocis' studio star –  Brent Corrigan (played in the movie by former-Disney-star Garret Clayton).

The real Brent Corrigan (originally known as Sean Paul Lockhart) was quite vocal with his objections to the movie based on his life, saying it "makes a mockery of porn". But Garrett tries to calm things down – "We never wanted to mock it or make it seem like we were making a joke out of it".
The 25-year-old Garrett was also asked about his own personal life and sexual orientation – but he prefers to keep the issue in the shadows:
I like a certain amount of veil. I've been very lucky this year. I haven't been brought down because people are focused on who I'm dating, what I'm eating, or what handbag is the best handbag — that's so cheap to me. But if others want to open up about their personal lives, that is their choice. It's not for me to judge.
Read the full interview right here, and watch the King Cobra trailer: