Brent Corrigan was in a lot of headlines this year, mainly due to James Franco's porn biopic "King Cobra". Now, it seems the porn star, who tried his hand in some main-stream acting as well, is offering his services as a male escort, promising "the boyfriend experience" – and not for the first time.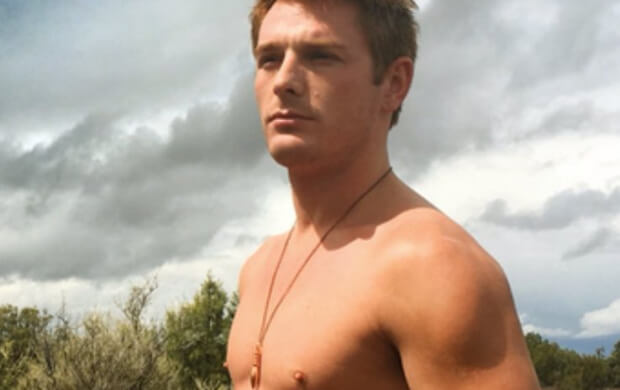 The King Cobra film is based on events from 2007, when porn producer Brian Kocis was brutally murdered by two rival porn actors/producers, in hopes of snagging his studio star –  Brent Corrigan. Although based on true events, the real Brent was vocal in his objections to the movie and its script, saying "I explicitly made it clear that their story was heinous".
In recent years, Corrigan was in and out of the porn business repeatedly, and tried his hand in some main-stream and indie acting gigs, as well as working with horses.
This week, he posted an ad (NSFW Link!) on his official Twitter account, with his details from a site called "Rentboys.Us":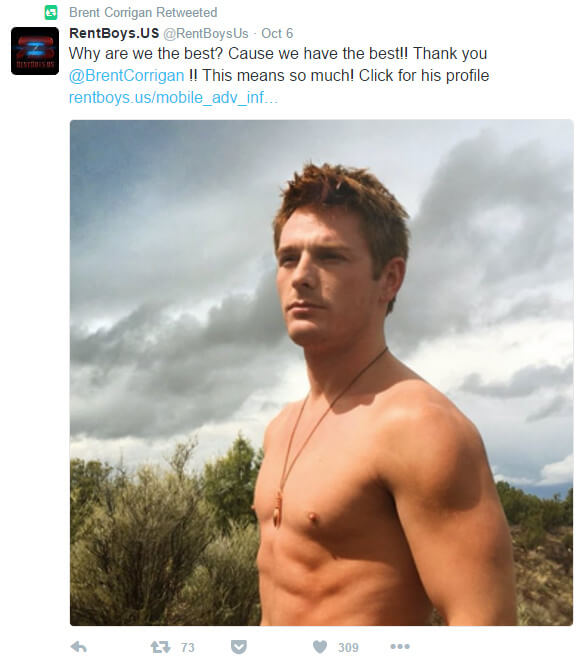 The link leads to Brent's profile, which states his body measurements, and describes him as:
Adventurous, exciting and yeah . . . a little bit infamous.  Trust me, that's all hype. At the heart of it all is a caring, engaging young man with a bit of a wild streak.  Most of the men that seek me out are wanting to get to know the guy behind the name.

But I approach every client and every person with positive energy. It's important to me that the both of us have a great time getting to know one another.  I don't consider myself a professional escort.

They call what I do the "boyfriend experience".
This isn't the first time Brent partakes in such activities. In 2014, in a blog post quoted on porn news site Str8UpGayPorn (Very NSFW Link!), he wrote about his decision to start doing escorts:
I wanted to make a candid, honest public statement here before someone somewhere else gets the jump on me.

I have decided to start escorting. I've always been fascinated by that world and at my age I'm done editing myself down so I can fit everyone else's standards. I'm done being what everyone else expects me to be when it's not really truly who I am.

Since we're being honest here, there's something utterly erotic about being compensated to spend time with someone. Giving them what they want from me. Exactly what they want. It's the mark of a true sub at heart and I'm not above that reality. Or embarrassed about it. No apologies. Not even a few this time.
Another possible explanation to Brent returning to this business, might lie in a Tweet he posted earlier this week, when asked about his current situation:
Tired. Broke. And worried about sending money back to feed the horses. @RobLives4Love

— Brent Corrigan (@BrentCorrigan) October 7, 2016
In the meantime, Brent is also working on his personal biography, "INCORRIGIBLE", which will supposedly tell the "real" events behind the Cobra story.
Watch: Brent Corrigan's Hottest Gay Porn Scenes