For a while now, the internet has demanded a romantic relationship between Captain America and Bucky Barnes (The Winter Soldier). Now, we finally get a romantic kiss between the two – not by the actual actors, but right under their nose. And at least one of them seems pleased.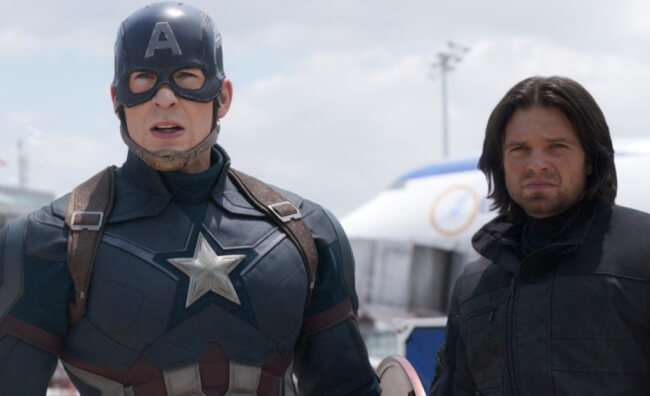 In "Captain America: Civil War", the homoerotic tension between Cap and Bucky was quite clear. Even Sebastian Stan (who has his own gay-themed past), had some good things to say about the idea.
This weekend, however, both Stan and Chris Evans (Captain America) were attending the "Wizard World" convention in Philadelphia, where fans stood in line to take staged photos with the two stars. Two cosplayers, dressed as Bucky and the Captain, took this chance to finally stage a romantic photo right along with the stars.
"They were totally cool with it", one of the kissing duo later wrote. "Sebastian said 'Ohh! Hahaha, nice!' And Chris started giggling. The guy behind us said they high-fived after we left!"
Indeed, Chris Evans looks pleased, supporting his beloved friend Bucky, while Sebastian Stan looks quite… surprised.
Oh, and there's a twist: This captain is actually a girl, and Bucky is… her real-life husband. But that just makes everything even more gender-bending-homoerotic-just-look-how-sweet-it-is-something.
Here's hoping we'll get the "official" version of this kiss in one of the next feature films.