Not all gay guys have a gold star – some have actually had sex with women, either because they were still "confused", or because they're bisexual. Those that have done both, are now here to tell the tale – which is better? Who sounds sexier in bed?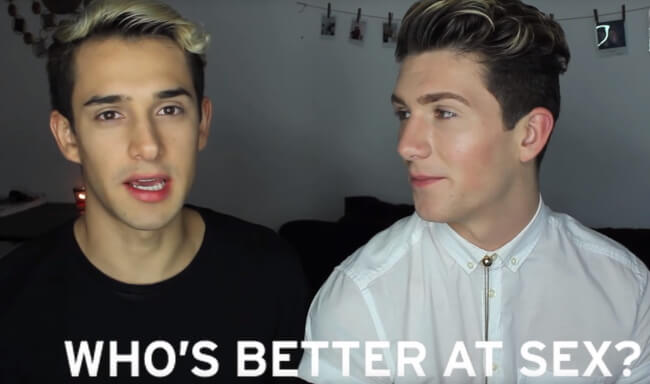 YouTuber Ariella Scarella interviewed YouTube-couple Dion Yorkie and Sebb-Argo, as well as bisexual YouTuber Brian Lafond, and asked them to compare sex with men vs with women.
The first question – Who sounds more sexy in bed? Brian doesn't hesitate: "Definitely men. It's so sexy when you've got a muscular man and he's moaning. Most guys try not to make too much noise, so when they do, you know you're doing something right."
Does size matter?
Dion: The size of their ego matters. With a girl, it's boob size.
Brian: Bigger is definitely more fun to look at and play with. But there are some drawbacks.
Do you approach them differently?
With women you want to take them out on a date first, get to know them…
And is there a different in sex? Brian puts it in perspective: "You've got your delicate flowers and your construction jackhammers. And that goes for both men AND women."
Watch the full video right here: