Call Me By Your Name, the critically acclaimed gay love story that's doing wonders in cinemas around the world, features two straight actors in very gay roles – so the first time they made out, rolling on the grass, might have been awkward. But they found a way to break the ice pretty quickly.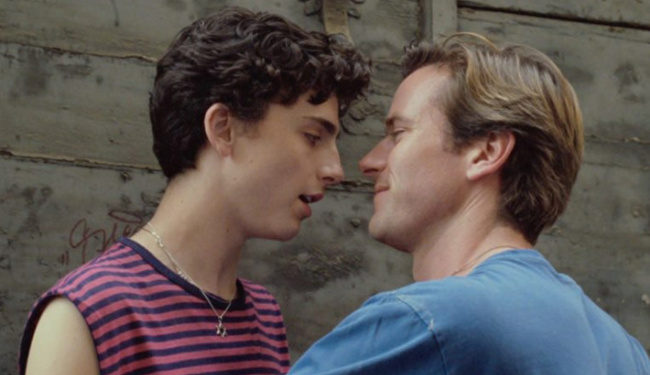 Call Me By Your Name tells the story of relationship between a 17-year-old Italian-American teenager called Elio (Timothée Chalamet) and his father's American student, Oliver (Armie Hammer).
While appearing on The Ellen Show, Ellen wanted to hear from Armie and Timothée about their first rehearsal. "You had never met before, and you had a rehearsal…"
"We were in the villa", the two begin their story, "And Luca Guadagnino our director says 'let's do a rehearsal. We're gonna go into the back yard, join us.'
And that's when things started to heat up.
Armie and I were very enthusiastic, we went in the backyard, and we get out to this patch of grass and he goes – let's pick a scene. We go to our page in the script and all it says is Elio and Oliver roll around in the grass making out.

And we're looking at each other and we're like… Alright, here we go, that's why we're here, let's do this.

So we get down on the ground and we start making out, and Luca goes 'No No No, stop, what are you doing?'

I don't know, we're trying to make out… And he goes 'No, I want you two to make out like you want to make out with each other, passionately!

So then we start making out, and we're making out, and we're making out… and no one is saying stop! And all of a sudden we both kind of stop and we look and Luca had just walked away, and just left us rolling around on the ground.

It was a bit of an ice breaker. Destroyed the ice.
Watch the full video, where Timothée also explains how he discovered a unique problem facing those who kiss men – razor burns.