Call Me By Your Name is turning out to be one of the most critically acclaimed movies of the year, with a touching gay love story – but it's also a source of some amusing anecdotes – such as the one about Armie Hammer's… balls.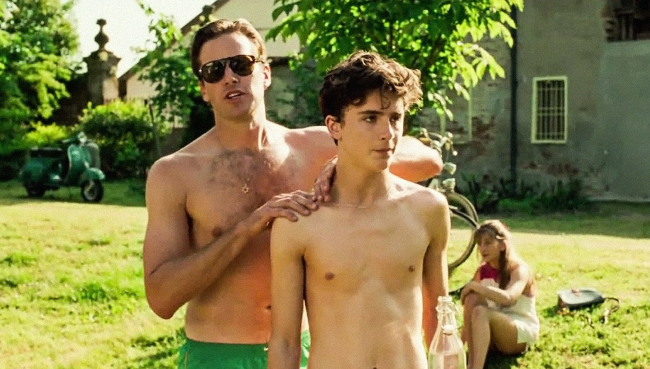 Call Me By Your Name is a romantic drama based on a book by André Aciman. It tells of a relationship between a 17-year-old Italian-American teenager called Elio (Timothée Chalamet) and his father's American student, Oliver (Armie Hammer).
Last week we told you how "thrilling" it was for Timothée Chalamet to film his "peach masturbation" scene, and now, in an interview with Andy Cohen on SiriusXM, Armie and the film's director, Luca Guadagnino, talk about the issue they had with Armie's balls – and the very short shorts he was wearing.
"Were your balls coming out?", Andy asks without flinching, "Tell me about the science of Armie's short shorts."
"There was a few times where they had to go back and digitally remove my balls from the movie. They were short shorts – what are you gonna do?"
At that point, the director hinted that the problem wasn't just Armie's short shorts, but "both things." Andy immediately took that to mean Armie has big balls.
However, they then add that Armie's balls were digitally removed – but were put "in other places" – "If you look carefully at all the trees, it's not all peaches!"
Watch it right here: