Earlier this year, Davey Wavey surprised (as well as delighted) some of his fans when he opened a fully explicit gay porn and erotica site, Himeros.TV (NSFW link, obviously!). But while Davey has done some cameos on the site, he didn't go all the way. So – is he going to?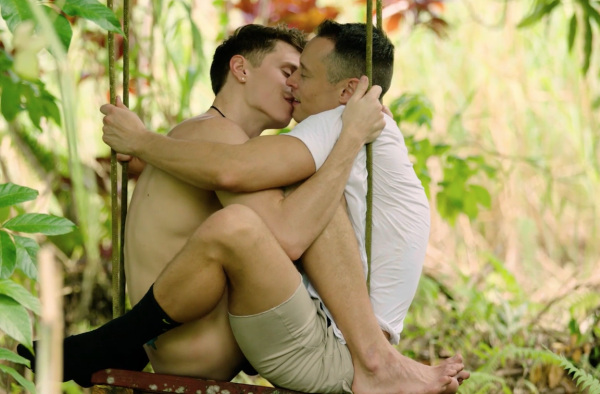 Davey Wavey is a very popular gay YouTuber, who's been releasing entertaining videos for years – some of which were already pushing the boundaries of YouTube, with semi-nudity and sexual topics.
But Davey's Himeros.TV website leaves nothing to the imagination – it's a gay porn site, that also aims to educate and enrich your sexual experiences. It features popular models from across the industry, such as Blake Mitchell, Calvin Banks, and Max Adonis.
But what about Davey himself? Well, he does have some "cameos", either in strictly non-sexual roles, or as someone who lets Troy Accola lick his feet. But he doesn't get full-on naked, and doesn't join in on the sex.
In a new video, Davey explains why.
"A lot of people have reached out to ask if I'm ever going to be in one of the videos in a naked, explicit sex capacity.

The thought has crossed my mind… It takes a certain person to be comfortable enough to get fully naked on camera and share their sexuality with the world. I am not there yet.

I know that I usually don't wear a lot of clothes… but there's a difference."
Davey also talks about the fact that as the producer of the videos and the person of pays  – the models might get uncomfortable if he joins in on the sex as well.
Watch it all right here, including an interview with latest model to join the site, Max Adonis: