Popular YouTuber Davey Wavey's transformation into a gay porn producer and performer was surely met with some criticism. But in one of his popular YouTube videos that we dug out from the vaults, Davey gets his "art critiqued" by none other than Blake Mitchell (Also known as Lane V. Rogers) – an expert in gay erotica, having performed himself in more than 50 scenes.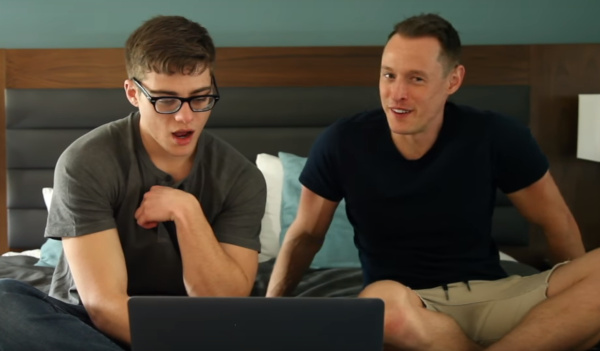 Blake Mitchell is a very popular gay porn star who's performed for several studios over the years – from Helix Studios (NSFW Link!), to CockyBoys (NSFW Link!), his OnlyFans where he performs with his boyfriend Chad, and even on Davey Wavey's gay erotica website – Himeros.TV (Also NSFW Link!).
Davey opened his gay porn website aiming to, among other things, educate gay men on how to have better sex – with adult video guides on things like How to have multiple orgasms, or how to deal with premature ejaculation. And make no mistake – there's also a lot of hot sex.
For a long time, Davey did not perform himself in the scenes – until that changed.
In a foot-fetish scene with Troy Accola, Davey doesn't get totally naked – but his scene partner Troy certainly does, and the two have some very intimate contact.
On YouTube, Davey asked Blake to sit down with him and watch his first scene as a performer – and give his opinion, as a gay porn expert.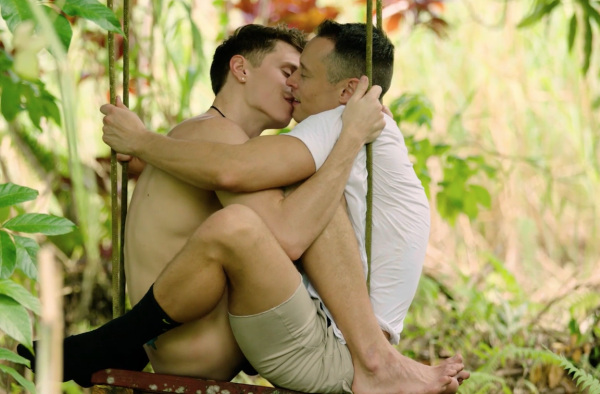 Blake seems to be impressed – "The look in your eyes… it looks like you guys have really intense chemistry", as Davey explains the things he had to do to his foot before the scene.
Check Out Davey And Troy's Full Scene On Himeros.TV
Watch Blake's full reaction right here (and hear why he's so insecure about his feet…)