Wentworth Miller spoke at the Oxford Union, a debating society at the Oxford University in the U.K.. In a very candid Q&A, he spoke about his road to fame in Hollywood, his mental issues – and coming out as gay.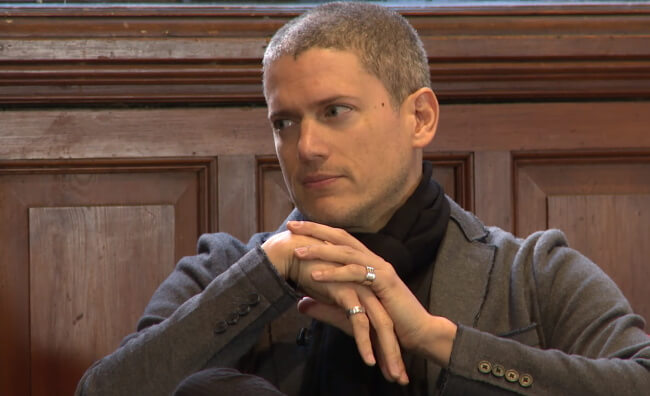 The 44-year-old actor/writer/handsome-man is not only openly gay, but is also very open about his struggles with mental issues. During his talk with the Oxford students, he addressed the path he had to take in his Hollywood career:
The process of working my way up the ladder in Hollywood had everything to do with me getting more comfortable with showing up as I really was in a variety of situations. I was trying to fit myself into containers that I didn't necessarily fit easily.

The fact is, Hollywood wasn't writing roles for openly gay men of mixed race. They still aren't to a certain degree. So I had to choose from what was available and work to have myself fit.
Throughout the talk, Wentworth was very candid about his feelings and struggles. "Right now I am really nervous", he said at one point. "For me it's confidence and I'm also terrified. I think of myself as a warrior but I'm also vulnerable. It's good for me to check in with myself and how I'm feeling physically. I spent a great deal of my life pouring a lot of time and energy into covering. Into pretending that everything was fine. And now I don't have to do that."
Wentworth only came out publicly a few years ago, but even doing it in front of smaller groups was a hard process for him – and it started with "The Mankind Project":
That's an organisation that was founded 30 years ago, men supporting other men. For me that meant sitting with a circle of men and sharing myself honestly. For 2 years I would meet with 6 or 10 men weekly, and we would talk about our lives.

It was the first place that I outed myself publicly. I've been outing myself privately to family and friends for years prior, but that was the first community into which I walked and said "I am a gay man" – and their response was "Great, have a seat".

And that was tremendous, to not have them make this big deal out of it, to not assign this weighty value that I'd been assigning it myself for years.