This is probably the hottest Nick Jonas interview we've seen to date – or at least the sweatiest. While working out at the Fight Club in Miami, Jonas talked about his diet, his new album, and even gave some dating advice.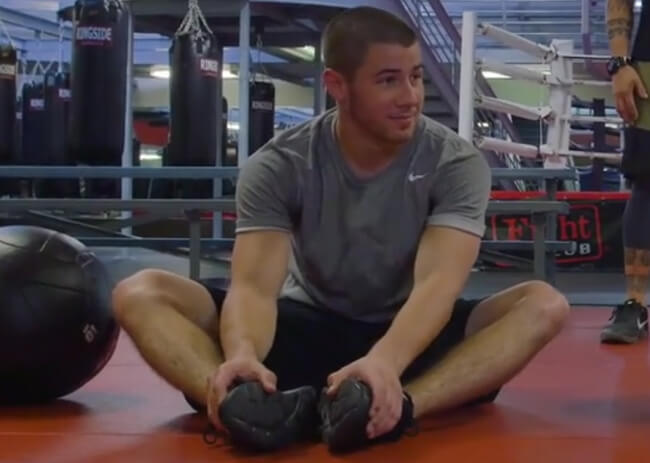 Appearing on "Complex" magazine's Get Sweaty show, Jonas did some physical training and boxing, while being interviewed by Emily Oberg. While the answers are interesting, it's really hard to focus when you see Jonas sweating it out like that.
Playing a gay boxer on the TV show Kingdom, Jonas has to stay fit, and keep a strict diet. "I eat pretty lean", he tells Emily, "Simple carbs. There are times when I need to be more strict about it – basically every time my shirt has to come off I try to be more cautious of it. But sometimes you just HAVE to eat a pizza."
He also reveals the best dating advice he's ever gotten: "Just take it easy. Enjoy it. Don't over think it."
And his advice for guys who have no game? Nick says this:
If you're out with your friends and you're having a good time, and you're good to just have a good time with just them and not with a girl in the mix or a guy or whatever, you can just chill. Enjoy your night. Don't feel stressed about making an effort with somebody.
Watch the whole interview, where Nick also talks about his new music label and his new album, right here:
Please enable
Javascript
to watch this video