The Bromance is strong with these two: A couple of months ago, the internet went crazy over a photo of Tom Holland looking at Chris Pratt with a… well… kind of thirsty-looking-look.
Now, in the lead up to Avengers: Infinity War, Tom opens up about the special relationship he had with Chris on the set.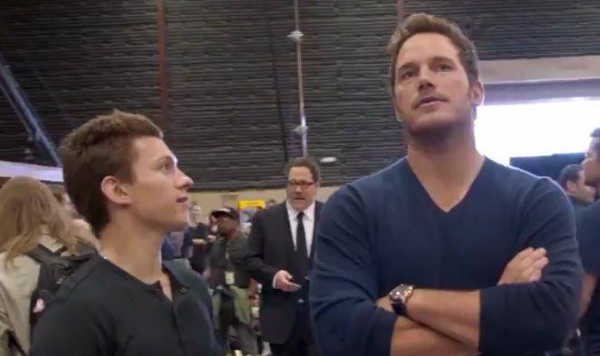 Asked by Metro Entertainment who was the best on set, 21-year-old Tom Holland, who portrays Spider-Man, says he got very well with 38-year-old Chris Pratt, who portrays Star Lord.
"Chris Pratt and I became very close. He's really funny, he's such a sweet guy, he's so talented. The way he navigates around a set and the way he treats everyone, he's a real role model for me.

We've become very close. He was in London the other day, I took him out for a drink and it was lovely to catch up, and he's a great guy."
So @TomHolland1996 (Spider-man) and @prattprattpratt (Star-Lord) are our favourite bromance yet! ❤️ #AvengersInfinityWar pic.twitter.com/BvTu7dCUpJ

— Metro Entertainment (@Metro_Ents) April 8, 2018
In the upcoming Avengers, the Guardians Of The Galaxy team are finally going to meet up with the rest of the Marvel cinematic gang – including Tom Holland's Spider-Man.

The film will be released at the end of April. We can't wait.