Tom Daley, the openly gay Olympic diver who is engaged to filmmaker Dustin Lance Black, had a bit of a blush when the chef, on the BBC's "Saturday Kitchen" show, turned the flirtation up a notch.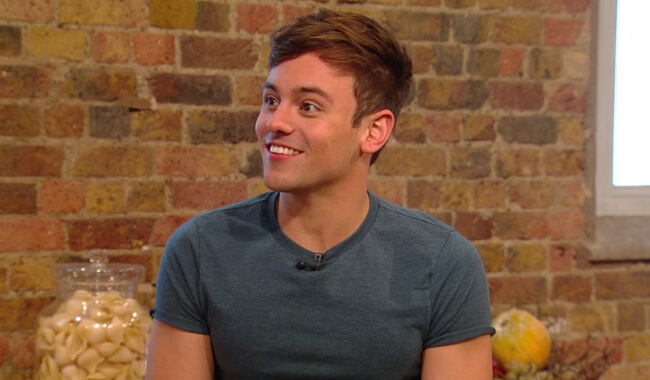 Tom is promoting his new exercise and recipe book these days, ""Tom's Daily Plan". As part of that, he went on the BBC's Saturday morning cooking show. According to OK Magazine, The chef, Ching-He Huang, started the show by confessing her excitement over meeting Tom, saying:
I'm awfully excited [to meet Tom] and I don't know why I'm wielding this knife as I look into his eyes
The chef later explained that she is a "married woman", and the host reminded Tom that he is a NEARLY married man. But Ching was quick to note that Tom still had time to "change his mind" about the wedding.
Fans on Twitter didn't fail to notice what was happening.
Someone throw a bucket of cold water over Ching #SaturdayKitchen

— Shirley Smith 💚 (@CasparPie) January 7, 2017
And Ching herself wasn't afraid to admit she's just like the rest of us – a fan girl.
C ❤️ T 😄. Love you @tomdaley1994 #fangirling #shameless #saturdaykitchen 💕 https://t.co/60oFOQIT7s

— Ching-He Huang (@Chinghehuang) January 7, 2017
But thankfully, Tom is not going to change his mind about the wedding, as earlier this week, on the "This Morning" show, Tom acknowledged that the wedding is indeed going to take place this year.
Yes, I'm in the middle of planning all that with Lance. It's been really fun, it's a really fun time and an exciting time.
Hopefully, we'll hear more details soon!