Olympic medalist Tom Daley, and Oscar-winning filmmaker Dustin Lance Black are now a beautiful married couple – but when the two first met, they looked quite different.
In a new "Ask Tom Daley" video, Tom describes his first meeting with Lance, talks about married life – and his greatest fears.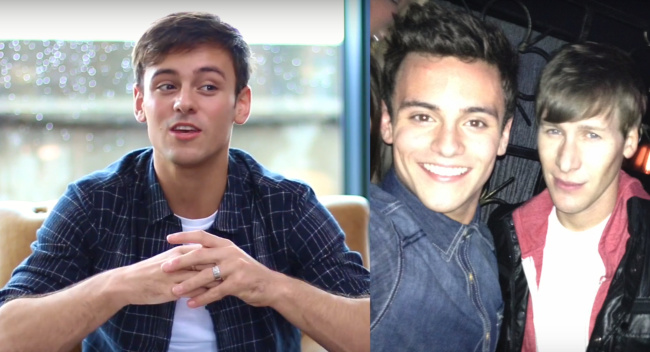 23-year-old Tom Daley and 43-year-old Dustin Lance Black got married back in May. Tom says in the video that being married gives him a sense of security, and "people take our relationship a lot more seriously."
When asked what his first impression of Lance was (the two met when Tom was around 19), he recalls their first meeting:
"I remember seeing Lance the first time, I had no idea who he was. All I saw was Lance sat there with white t-shirt on, jeans, trucks, red hoodie and a leather jacket on top.

I remember thinking that he looked a little bit like a swimmer – the broad shoulders, and he had long floppy hair. So randomly we used to call him "Dustin Bieber" because of that."
Tom then shares the photo from their first meeting – saying "as you can see, he does have the long floppy hair on the front, which I think was cute at the time, but I do much prefer now with shorter hair."
Later in the video, Tom explains why Lance keeps his Oscar in the toilet, reveals his greatest fears as a diver ("Landing flat, hitting your head and getting lost and disoriented in the air"), and more.
Oh, and a surprising "favorite picture" from their wedding. Watch the full video right here: