Olympic medallist Tom Daley and filmmaker Dustin Lance Black were married back in May, and finally went on their honeymoon in Spain last week. Now, however, we're finally getting a close look at the wedding itself, after Tom released their love-filled video of the event.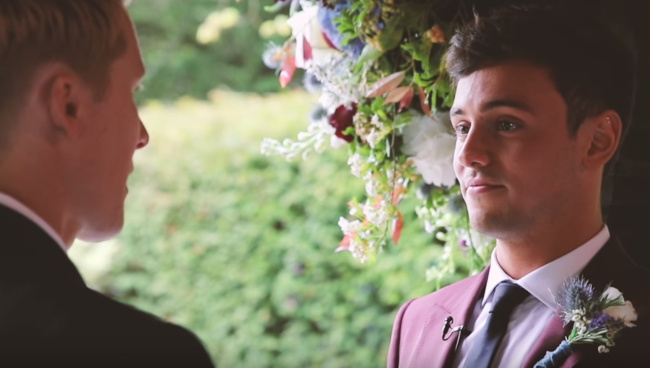 23-year-old Tom Daley and 43-year-old Dustin Lance Black got married at the Bovey Castle Hotel and Golf Resort in the United Kingdom. While a few pictures from the ceremony were released after the wedding, the video was never shown until this point.
"We know our wedding was only possible thanks to the brave work of countless people for generations before us", Tom writes in the caption on YouTube, "So in that tradition, we will donate any revenue from this video to the 'LGBT+ Switchboard' and 'It Gets Better' in hopes of making things even better for future generations."
The edited video shows clips from the wedding day, along with voice-overs from Tom and Lance talking about their love for each other.
"When Tom and I met four years ago, I knew instantly I was in trouble", Lance says. "I knew I had met my match. I had met someone who would inspire me. Someone who I could admire, but also somebody who would naturally be my best friend. And it didn't hurt that he was incredibly cute and charismatic and didn't let me get away with a thing."

Tom then describes his feelings towards Lance:
Within the first few minutes of conversation with Lance things suddenly and massively changed for me. I fell in love. Every single part of him…

Lance is one of the most complicated creatures on the planet. But that is why I love him. And above all, he makes me feel safe. When I'm with him, I feel like I can take over the world.
Watch the full video right here: