What do you get when you take two Olympic medallists, who also happen to be hot guys, and you mix their bodies up all over and around and above and below each other? You get Tom Daley and Nile Wilson's extreme Yoga challenge…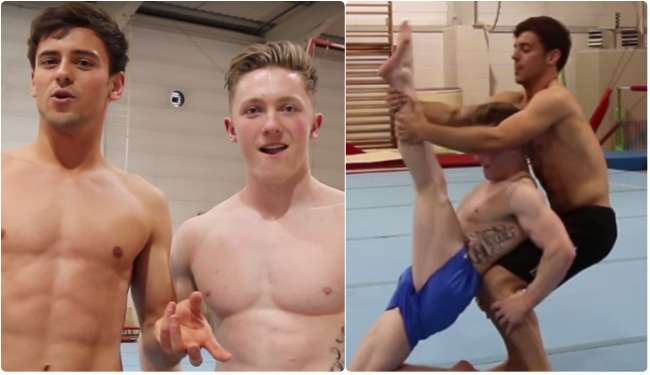 You're probably already familiar with 23-year-old Olympic diver Tom Daley. Lately, he's been collaborating with 21-year-old Nile Wilson, who is a an Olympic gymnast who won the Bronze medal last year.
In their latest video, Tom got some of his celebrity friends to suggest extreme Yoga poses – and our two shirtless Olympic champions then had to recreate those poses.
From Gus Kenworthy to Stephen Fry, The Vamps, and several others, Tom and Nile get some very challenging (and quite… intimate) poses – and they rise up to the challenge. Even Tom's new husband, Dustin Lance Black, gives them a pose to try.
If you're a Tom Daley fan (or a Nile Wilson fan) – the two are really at their best here, all perky and cheeky. And for some reason, Nile keeps grinning every time he gets to say "I'll go on top".
Watch it right here: