It's almost Christmas time, and what better way to get ready, than to look at all those old, embarrassing Christmas photos of your Christmas past? Well, when you're Tom Daley, those photos are quite adorable – and some of them even a bit cheeky.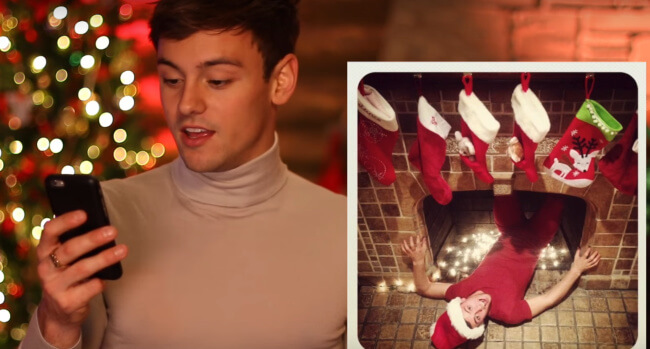 In his latest video, the 22-year-old, openly gay Olympic diver is going through a bunch of his old Christmas photos, in preparation for this year's holiday.
It starts with a look at the Christmas stocking he got when he was first-born (hand-made!). It then moves on to a photo of him at 6-7 years old, with his brother William, sitting on Santa's lap.
Later on, we get to see a photo of Tom in a red t-shirt, red pants, a Santa hat, and coming down the chimney with his legs spread up high in the air. Hmm. Even Tom himself doesn't think that's very subtle…
Watch the full video, to also see his Christmases with Lance, and some sweet family traditions: