"The Topless Baker" is a British lad called Matt, who publishes baking videos where he's always shirtless. Tom Daley is an Olympic diver who publishes all sorts of videos where he's usually shirtless. What do you get when you combine these two together? Double-hotness, that's what.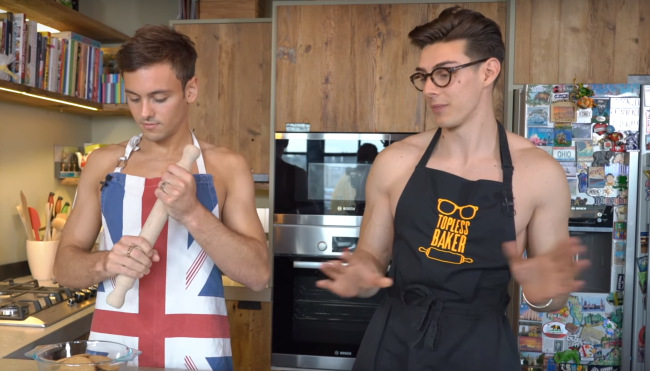 Matt, the son of a former Michelin star chef, has been cooking for several years, and has a very popular YouTube channel. He wasn't very good at it at first – so he did what every aspiring chef does – he got in shape and took his shirt off. "Someone at work suggested that I should bake, and I should do it without my clothes on". And the rest is history!
Mike and Tom got together for TWO special baking sessions, baking a beautiful Christmas cheesecake on Tom's channel, and a hot Cheesecake on The Topless Baker's channel.
"I was never shy about getting topless", Tom explains, and joins his fellow baker in getting half-naked.
The two go ahead with the preparations, complimenting each other ("Good squeezing there!"…. "I've got strong thumbs…"), complimenting each other some more ("Tom has a better body AND is a better baker"… "Definitely not a better body!")…
And it all ends with Tom taking a big Chocolate Snowman straight into his mouth. Good times were had by all.
Watch the first video here:
And here's the one from Tom's channel: