We love seeing Olympic diver Tom Daley collaborate with some of his super-hot friends (like trying yoga poses with another Olympic hottie) – and this time, Tom is having some kitchen fun with model-turned-chef Chris Baber.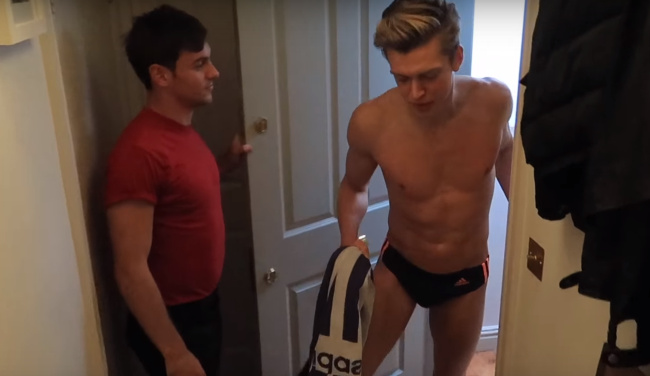 Chris Baber, who is probably one of the hottest chefs we've seen to date, used to be a model, until he won a TV cooking show – and has since turned his attention to the kitchen.
Chris is still smokin' hot, though (and not just because of the stove) – and when he knocks on Tom Daley's door, he's… semi-naked, wearing only a tiny swimsuit. "I thought you were going to teach me how to dive… you're Tom Daley…" OOPS!
Fully dressed (what a shame), the two move on to teach us all how to prepare a healthy Chicken Tikka Masala dish. Don't worry, though – they end up giving Tom's husband, Dustin Lance Black, a taste.
Watch it right here: