Baking can be a lot of fun – but watching OTHER people bake is usually a boring task (British Bake-Off notwithstanding). However, when the baker looks like Matt, a 24-year-old from London also known as "The Topless Baker" – the fun in the kitchen goes up to 11.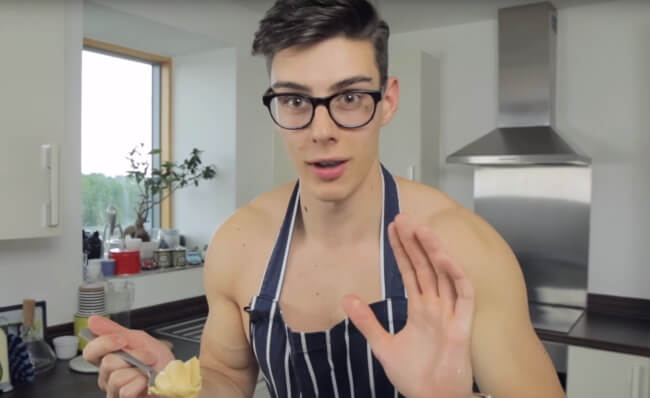 Matt, the son of a former Michelin star chef, started cooking a few years ago. He wasn't very good at it at first – so he did what every aspiring chef does – he got in shape and took his shirt off. "Someone at work suggested that I should bake, and I should do it without my clothes on". And the rest is history!
Oh, and he also improved his cooking – and streamed it all on YouTube for our, ehm, culinary pleasure.
On his official website, Matt writes:
Having grown up with a chef for a father, cooking has always been a big part of my life. However,when university came along, I soon realised that whilst I had an appreciation of good food, I didn't have the first clue about making it! I was a skinny 18-year-old, living off a diet of Special K and cheesy puffs.

Surrounded by testosterone fuelled rugby players, I thought it was time to get my self in shape and over the course of 3 years, I lived off oats, chicken and rice – something my palette and father did not approve of!

I soon realised that life was far more exciting eating brownies and ice cream,  and that it was about time I started to use the abundance of knowledge my dad had to widen my repertoire. Although I still live a healthy lifestyle, varying my diet and treating myself has made life more enjoyable, plus made those gym sessions even more motivating!
So, there he is, making Macaroons:
Or maybe you prefer Red Peso:
Matt promised that if his YouTube channel gets to 100,000 subscribers, he would do a video WITHOUT the apron. So go subscribe!
You can also watch his recent Q&A, where he talks about his favorite sports (Tennis!), his favorite desserts, and his guilty pleasures (Justin Bieber!) –
h/t: Instinct