Olympic medalist Tom Daley is known for his sexy, hilarious innuendos, splashed across his videos, often along with hubby Dustin Lance Black. This time, however, there's a Twitter feud brewing, after Tom managed to insult… Lance's balls.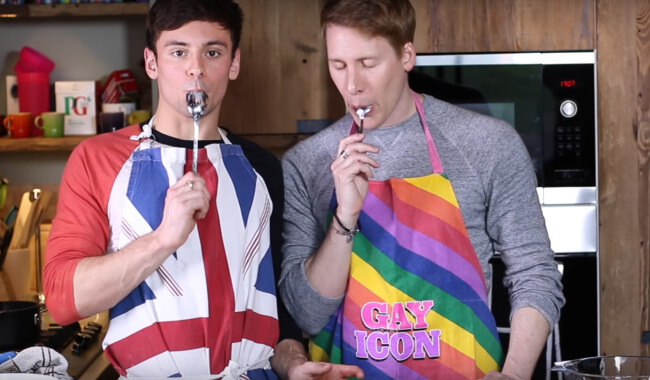 It all started with Tom's latest video on his YouTube channel. He often posts cooking videos (like the time he got shirtless with the Topless Baker), and this time was joined by "Deliciously Ella" to create Peanut Butter and Raspberry Protein Energy Balls.
On Twitter, Tom promoted the video by writing:
The most delicious balls I have ever had!
This alone was enough to prompt concerned responses from his fans.
what does @DLanceBlack think about your statement?😉

— Dsens (@D_cence) February 8, 2018
And –
I think @DLanceBlack may take issue with those being the best balls you ever had

— Jon (@1dfantx85) February 8, 2018
Well, someone went ahead and snitched to Lance! Who was, naturally, embarrassed by the statement:
— Dustin Lance Black (@DLanceBlack) February 8, 2018

Fans were giving advice left and right –
Sounds like you need to up your game Lance! 😂

— Erica (@mumpthegrump) February 8, 2018
But worry not – an observant fan noticed that on Instagram, Tom realized his mistake, and changed the wording to "Some of the best balls I have ever had"
And we're not even going to take about the fact that these are Protein Balls… Watch the full video, balls and all, right here: