"Curious" straight guys seem to be all over the place these days (hey, we've even written a guide on sex with "straight" guys). For some, it's just a one-time experiment, and for others, it becomes a regular thing – but sometimes they get more than they originally bargained for.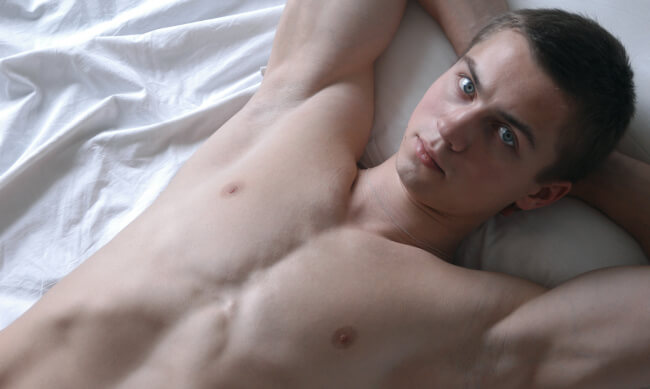 Which is what happened to this guy on Reddit, who identifies himself as straight, "as in sleep with women, outwardly 'straight,' and live a heterosexual dating lifestyle".
But then, without warning, something changed in his life. Here's his story, with some abbreviations:
About a year ago, I came across some hot-as-fuck posts on Craigslist about guys who wanted to suck straight/married/bi guys off.

It was especially hot because a lot of these borderline taboo concepts, like "it's not gay to get sucked off, it's respect"  really awakened my sexually dominant side in ways that I hadn't with women before.

Well, after writing a few of the posters to try and get in their heads to understand why this was a turn-on for them — and discovering more about my own sexuality in the process – I ended up meeting a guy at his place.

And he pretty much immediately transformed from this typical muscle-bound guy I'd expect to see at a gym (which, compared to my nerdy stocky self, the size/fitness disparity is quite exciting!), into this dirty-talking, whimpering submissive.

Before I knew what was happening, he was on his knees… Understand that, for me, this sort of shit doesn't happen — so I was pretty much stunned and totally turned on beyond measure. But, what happened next has pretty much blown me away.

I'm laying on his bed while he's bobbing his head up and down, when all of a sudden, as he refers to himself as 'my property,' and promises to 'always take care of me,' he lifts my legs up, and buries his face into my ass. For the next hour, he's giving me my first-ever rimjob. I'm in pure ecstasy…

Of course, I see him now – at least every week – for a weekly draining. But what gets me going is his total dedication to worshipping my ass. But he never orgasms in my presence, and instead he just performs his role.

But I'm addicted. I've incorporated him into my daily commute and make sure he's there to service me whenever I need a release. I know every time I meet with him that I can basically kick back, and be a greedy fucker and do nothing while he goes to town.

What does he get out of this? I understand that there's a psychological rush to being a submissive, but this guy is a true worshipper and never wants anything in return. Not that I would ever reciprocate (again, I'm a greedy fucker). But why is he doing this?
He's told me repeatedly that he has girlfriends, and he has "vanilla" sex with them, but that his destiny was to be my "property." He's pretty open about his sexual past with me, and has even procured test results to show me that he's disease-free (I had him re-test at another facility, just so that I could be sure – he complied without question).He's made reference to wanting me to fuck his ass — I have zero interest, and have told him as much. So, is he basically looking to eventually be topped, do you think?