"Curious" straight guys seem to be all the rage these days – call them hetero-flexibles, call them bisexuals, call them curious straight guys – whatever the label, they seem to want to "experiment" with guys, which is all fun and good.
The problem? they usually have no idea what they're doing, and they need your help. You can't just undress an experimenting guy and stick it in – you need to ease them into it, step by step.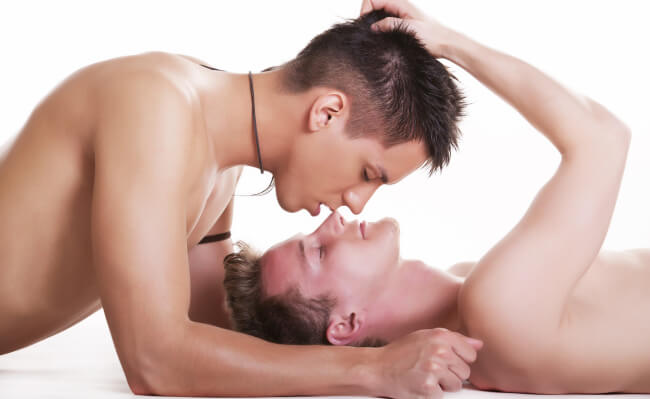 These techniques and toys would be perfect to help you do just that. It might take you a few days (please don't go through all the steps in a single night… unless you're both 20 and REALLY "excited").
Of course, you can use these steps for anyone new to certain aspects of gay sex – tops who want to bottom for the first time, for example. Or, if you're a curious straight guy yourself – use this as a guide to enter a world of new pleasures.
And the best thing? You can get the items mentioned here for a big discount – just use the promo code "Buzz" on Adammale.com, or simply follow the links on this article – and you'll get 50% off your highest priced item, AND free shipping on orders over $20 (in the United States).
Step 1: Introduce Him To A Fun Male Masturbator
First, make sure your buddy is comfortable and totally into this. The idea to do these things should NOT come from you, but from him. He might be simply curious, he might be a gay guy who's been hiding his true self (from himself) for years and wants you to help him with his first steps – whatever the case, HE needs to want it, and YOU have to take things slowly.
Sorry, you can't jump straight in (pun intended), you can't start things off with your mouth, and certainly not with your penis. We're talking about slow starts, remember? So what better way to convince your buddy men can have fun together, than by giving him a "helping hand"?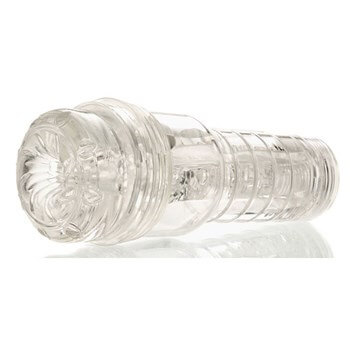 But he might be scared of your ACTUAL hand at first, which is why The Fleshlight Go: Torque Ice is a perfect start. It's a popular masturbation aid with an inner sleeve made of "SuperSkin" and designed for maximum stimulation. (just don't forget to get some top quality lube as well). While there are other, bigger masturbators out there, this one's perfect for the job because of its small un-intimidating form.
Just think about it – you're sitting with your curious straight buddy on the couch, things are getting heated up, he really wants to "try" something… and then you pull out this huge, black tube, or some noisy electrical gadget – the poor chap is going to run away scared.
The Fleshlight Go, however, is travel-sized and discreet, and will give him (and you, no reason not to buy two) something he would NEVER get from his own hand (Note, however, that on this specific item you will only get 25% off with the promo code… but still worth it!)
And the best part? You can hold it for him, so in effect you're the one doing the rubbing, but there's a cool "device" between you, so you're not ACTUALLY touching him… yet.
Step 2: Introduce Your Hand
I know, I know, you want to jump in already – but you simply have to take it slow. You had your fun with the masturbator, it was "safe" and easy and you weren't actually TOUCHING him (well, almost).
Now, you can move on to the next step – touching each other (just with your hands for now, mind you!).  Again, make sure he's totally comfortable and into it. He might be nervous at first, which is understandable, but if at any point he asks you to stop – you stop.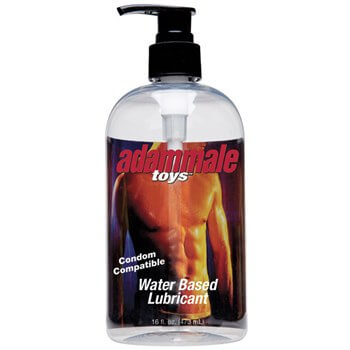 As an experienced gay man, you surely know using your hand alone without lube is not very enjoyable, so lube is your friend. But make sure you use a top quality one, and also make sure it's compatible with condoms and sex toys. Even though you're only using your hand FOR NOW, you don't want to start things off with a lube that would pose a problem later on.
Adammale's own lubricant is perfect for the job – it's a thick gel that lasts for a while (don't you hate it when you have to keep re-applying lube in the middle of all the fun – even when you're just using your hand?), and it's water based, so it's compatible with sex toys AND with condoms, for the acts that follow.
Step 3: Use Your Mouth
Now that you're both more comfortable with each other, and your buddy is used to the idea of another man touching him, you can move on to some more fun stuff – specifically, your mouth. It ain't just for talkin'.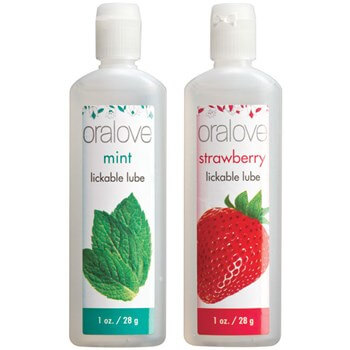 He's sure to love these surprising new sensations. If he's feeling courageous enough, he might even be willing to return the favor – but don't push for that when you're just starting out.
And yes, there are little helpers for oral sex as well – you can use flavored lubricants for some added good taste (especially if HE'S doing YOU for the first time). Why not a strawberry-tasting lube, or peaches and cream?
Of course, if you want to really show him how it's done, you better go deep. While researching this guide, I came across a product I haven't tried before – the Deep Throat Spray. 
If you're having trouble swallowing it all, or if your buddy is particularly big, this innovative spray will help numb your throat for easier and deeper swallowing acts. (I know, I know, many of you would look down at having to use a numbing spray for that – but trust me, there are some guys that, when they take off their pants – you would really wish you had that spray in your bag…)
Step 4: Let HIM top YOU
This step depends on your situation, of course. If you're strictly a top, you would have to skip this step – but hey, if this curious straight guy is willing to throw away years of heterosexual sex just for you, can't you be flexible with your top/bottom preferences?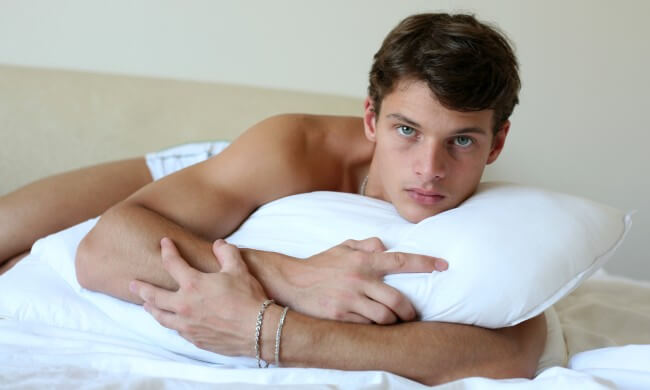 Naturally, topping is usually a lot easier to "grasp" for men who are new to gay sex. It's not just the physical issues (bottoming for the first time isn't easy!), but it's also the psychological ones, where for many men, being the top is… "less" gay. WE know that's silly, but for experimenting, new-to-the-club guys, these are often real issues.
Again, it's important to take things slow and easy and listen to his needs. Hold his hand (and other parts) every step of the way, and show him where everything goes.
Before you begin, PLEASE make sure you use an anal douche first. I know it's a sensitive issue for some – there are those who think a douche should be used before EVERY sexual encounter, there are others who are perfectly fine with skipping this part – but when you're with someone who's having anal sex for the first time, you really want everything to be squeaky clean, at least for his sake.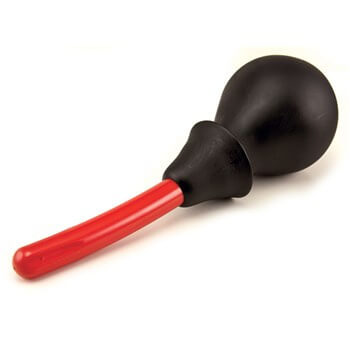 And if you're using a high-quality douche (The Ultra Douche fits the bill perfectly), the process is quick and painless.
When you get to the act itself, don't forget to use a condom (hey, he's straight, you don't know where he's been!) – there are those that even come pre-lubricated, like the one from Adam and Eve, but even so, make sure he has a quality lube bottle at hand. Coming from a lifetime of straight sex, he might not understand the importance of lube – teach him!
Step 5 – Introduce Him To Anal Pleasures
By this point, you've done ALMOST every thing two men can do with each other – except for a wedding, and one other thing. Yes, you topping him.
But wait! As much as you might want to – and more importantly, as much as HE might want to – you can't just jump right into it. Remember, he most likely never had anything "up there" – and your penis can't be the first applicant for the job!
Of course, a finger would be a good start, but that's just not enough for moving on.
Which is exactly what anal trainers are for. You need to train his anus – and his body – and his mind, taking it slowly and with increasingly bigger sizes. You should start with something small and easy to take, and move your way up (and in).
I particularly like the Colt Anal Trainer Kit – it's perfect for new bottoms (whether gay or straight-and-curious), giving you a set of three different butt plugs in varying sizes.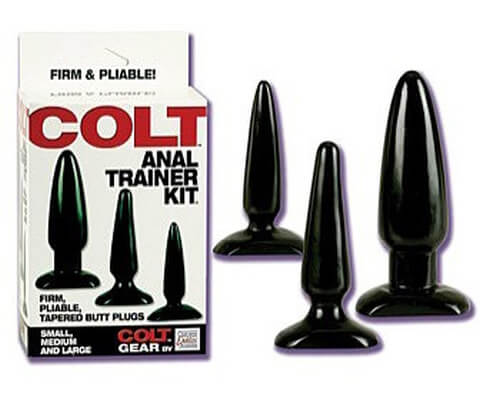 You start with the smallest one (with a girth of only 1 inch, and a length of 4 inches), so he can get used to the sensation. Again, don't forget the lube! make sure you use high-quality lube that is compatible with rubber sex toys (AdamMale to the rescue again), and no, there's no such thing as too much lube!
Once he's fit and comfortable with the smallest butt plug, you move on to the second one in the kit – this one's 4.5″ long and 1.5″ wide. Take it slowly, but you can spice things up by paying some attention to his other side as well, showing him how much fun this can be. Or you can let him play with himself at the same time, with The Fleshlight Go from Step 1.
When he masters the second size, it's time to move to the third and final one (remember, this might take a few days, don't try all the sizes at once!) – that one's 5.5 inches long and 2 inches wide, giving you the perfect 3-stage training regimen. And at 50% off, the Colt Anal Trainer kit is a real steal.
At this stage, he's probably ready for the real thing. If he's still a bit skeptical, it might be a good idea to introduce him to an anal vibrator – the idea here is to show him how much fun can be had by playing with his prostate, and vibrators are perfect for the job.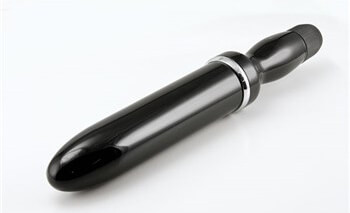 I would suggest you don't use a vibrator that looks like an actual penis at this point, as that might still look strange to him – so something like the Prowler Anal Vibrator will do the job perfectly, as it also looks like a high-tech toy, which men of all sexual preferences are fans of.
That's it, now he REALLY should be ready for the real thing. As always, take it slow. Listen to his needs, and tell him to listen to his body. If done correctly – he will experience sensations he never even imagined until this point.
Step 6 – Ask Him To Marry You And Post The Proposal On YouTube
OK, maybe not so fast. There's no telling with curious straight guys – after having his fun with you, he might decide this was a one-off thing, and never do it again. He might find out he swings both ways, and have as much safe fun he can. Or, he might find out he's been gay all along, and was just too scared to act up on it.
Whatever the case, feel good knowing you've helped a wandering soul. Oh, and you had some fun sex in the process.