Popular singers Shawn Mendes and Charlie Puth have an ongoing professional relationship, as well as a playful one.
This week, while together on Shawn's tour, the two had some fun in Florida, where they also went to beach. The results, were posted on Charlie's Instagram account.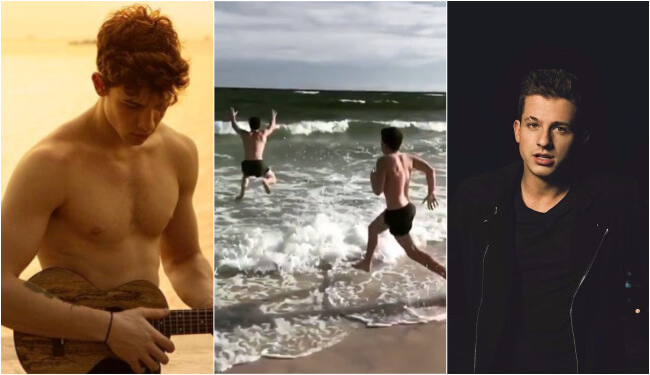 Charlie Puth, the 25-year-old American singer, has joined 18-year-old Shawn Mendes for the North American leg of his worldwide tour.
But other than music, the two know how to have fun. A while back, Shawn even revealed that Charlie is sending him workout selfies. This week, they spent some quality shirtless time at the beach in Florida.
Observant fans were quick to notice that from the way the two are buried in the sand at the beginning of the video, it would seem Shawn is on top of Charlie. Cheeky.
https://www.instagram.com/p/BW8hC83Bdj6/?taken-by=charlieputh
Then there was the Instagram story of Charlie tapping on Shawn's ass. Through the sand, of course:
https://www.instagram.com/p/BW6BLeqD93C/?taken-by=shawnmendesupdates1

Boys will be boys…
https://www.instagram.com/p/BW9sExljJGT/?taken-by=shawnmendesupdates1