Fact 1: Nick Jonas KNOWS we're thirsty for him. No surprise there. Fact 2: Nick Jonas had a hole right in the crotch area of his jeans, in his latest music video for "Find You." The question… are the two things related?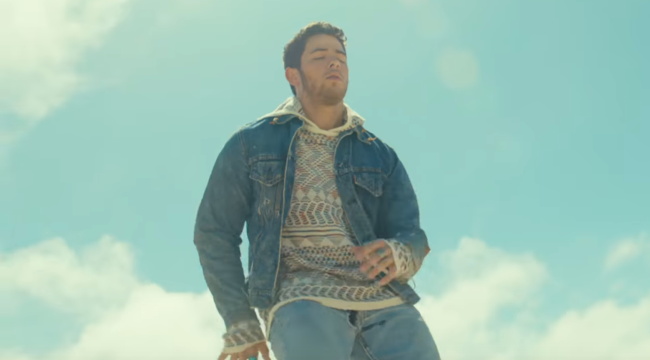 Nick Jonas, the popular 25-year-old singer, is working on a new album these days, while also filming a movie called Chaos Walking (with fellow hunk Tom Holland).
In September, Nick released a new music video – "Find You", that shows him walking around in the desert, partying, and having some underwater fun.
In a new interview with Official Charts, Nick explains the inspiration for the song came to him during a rave in Coachella.
More importantly, Nick finally explains something you might have noticed in the music video (and if you haven't, you're not gawking at Nick enough!) – the jeans he's wearing in the clip have a hole in them. Around his crotch.
"I left all of that in the hands of my stylist", Nick explains. "But there was a hole in the crotch of my jeans, so there's a lot of questionable things happening!"
Hmm! Other than that, Nick also addresses his thirsty fans, who constantly make sure his Direct Messaging box is dirty.
"Honestly, if you went through my DMs, I think you would be even more shocked with some of the things I receive. Very vulgar and I probably can't repeat them right now.

I did an interview and said something about being choked, and well, let's just say there are some funny and imaginative people out there who really took it to heart!"
Here's the video. See if you can spot that hole…