"I'm gonna get Nick Jonas' face tattooed on my left asscheek so I can say I sit on Nick Jonas' face all the time". Not really something you wouldn't expect to read about Nick Jonas, from his super-thirsty fans, right?
But when you hear Nick HIMSELF read that out loud… things get naughty.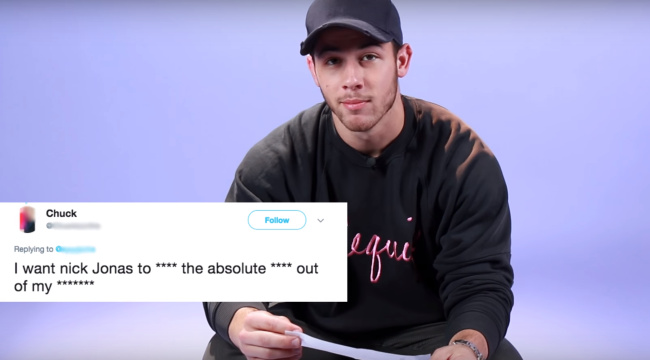 Nick Jonas, the popular 25-year-old singer/hottie, sat down with Buzzfeed to read – out loud – some of the kinky, thirsty Tweets people (both men and women) have written about him.
Because he's Nick Jonas, he stays as cool as ever, even when he's reading things like:
"I want Nick Jonas to **** the absolute **** out of my ******"
Or…
Nick Jonas could choke me on any holy day
To which Nick replies: "Into choking, huh? That makes two of us!"
Watch the full video right here – and find out how Nick's thumbs connect with that first guy's ass…